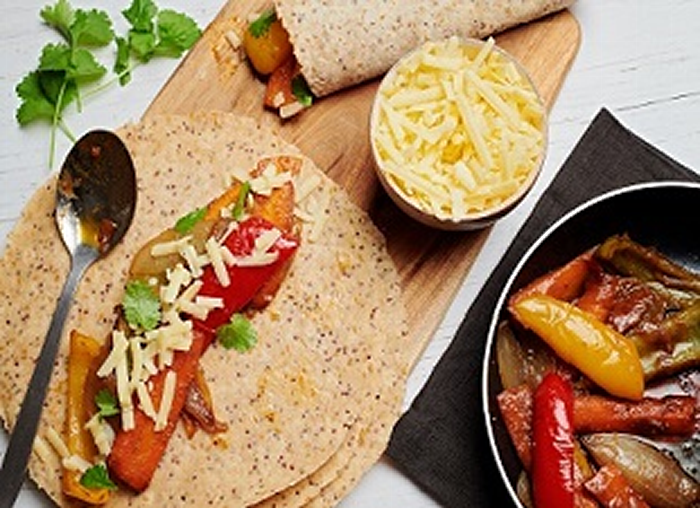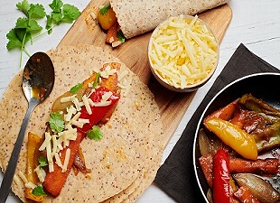 Vegetable Fajitas with Wraps
Nice and easy dinner that can be made quickly but has lots of sweet and smoky BBQ flavour. To the extra mile, top with sour cream and home made guacamole and serve with grill corn on the cob and homemade potato wedges.
Credited to: Coeliac UK
Kcal: 586.0
Difficulty: Pretty easy
Serves 2
5 mins prep
15 mins cooking time
Ingredients
Red Onion, 180g
Carrots, 160g
Pepper, 2
Oil, 2 tsp
BBQ Fajita Spice Mix, 35g*
Gluten Free Protein Wraps, 4*
Cheddar Cheese, 60g
*Please check your Food and Drink Guide for suitable products.
Method
Slice Onion, Carrot and Pepper to roughly 3cm thick.
Heat oil in a large non-stick frying pan over a medium to high heat, add the onion, carrot and peppers. Fry, stirring frequently, for 8 minutes.
Add the spice mix, coating the vegetables. Cook for a further 5 mins or until preferred vegetable texture.
Warm wraps in microwave for 10 seconds.
To serve, add a spoon of fajita mix with some grated cheese to the middle of the wrap, fold and enjoy!
Nutritional information per serving
Hints and tips:
To fold a fajita wrap without all the filling falling out, put the filling in a line down the middle of the wrap leaving space towards the bottom of the line. Fold the wrap from the bottom of this line upwards, then fold both left and right sides over so they overlap. This should create a wrap that doesn't let any of the filling out the bottom.