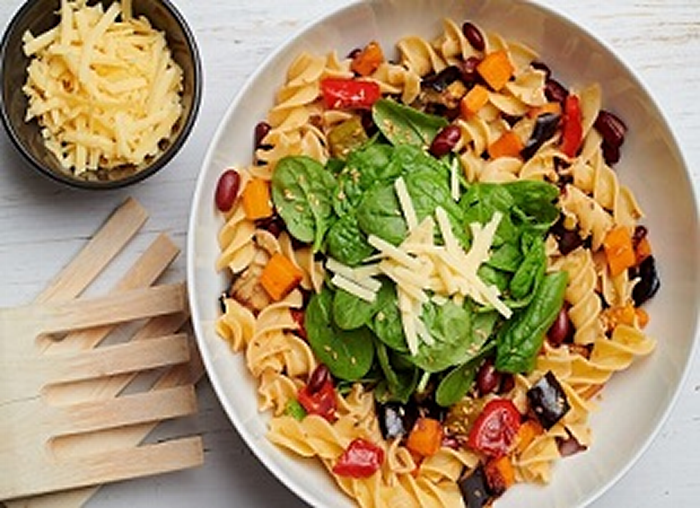 Roasted Vegetable & Pasta Salad
Colourful pasta salad that is a great way to fill you up at lunchtime and easy to make for lunchboxes.
Credited to: Coeliac UK
Kcal: 815.6
Difficulty: Pretty easy
Serves 2
10 mins prep
40 mins cooking time
Ingredients
Red Onions, 130g
Carrots, 100g
Peppers, 1 (130g)
Aubergine, 1 (250g)
Oil, 2 tbsp
Kidney Beans, Drained, 240g
Gluten Free Fusilli Pasta*, 150g
Spinach, 2 Handful (84g)
Cheddar Cheese, Grated, 70g
Linseed, 25g
Method
Preheat the oven to 220C/200C fan/gas 7.
Roughly dice the Onion, Carrot, Pepper and Aubergine. Combine oil and vegetables in roasting tin and season.
Roast the vegetables for 30 mins, stirring occasionally, then add the kidney beans. Roast for a further 10 mins until vegetables are soft and slightly catching.
Meanwhile, cook pasta to pack instructions.
Assemble by mixing through the drained pasta with the roasted vegetables, topping with spinach, cheese and linseeds.
Nutritional information per serving
Hints and tips:
Use woody herbs, like Rosemary and Thyme, to roast with the vegetables to boost the flavour. Add some creme fraiche to make this pasta dish creamy.