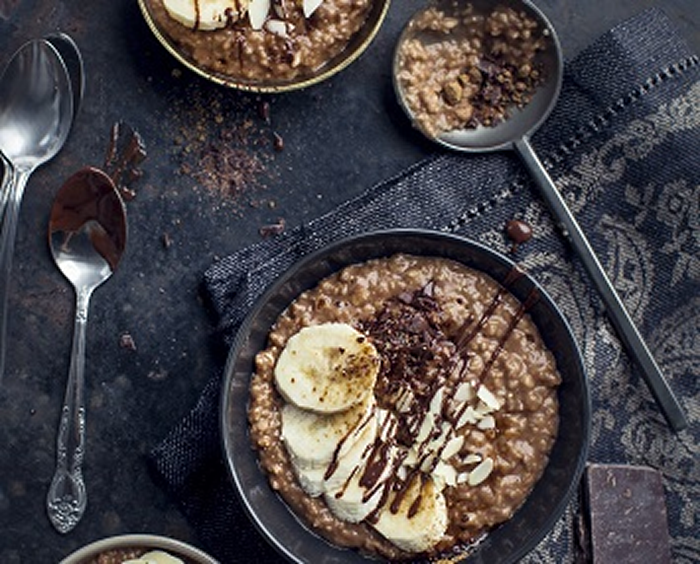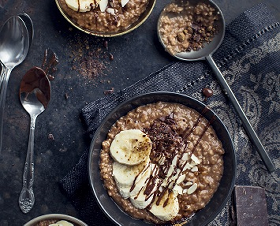 Banana and Cocoa Gluten Free Porridge
Credited to: Coeliac UK
Kcal: 415.0
Serves 2
2 mins prep
15 mins cooking time
Ingredients
100g Gluten Free Porridge Oats
300ml Water
200ml Semi Skimmed Milk
2 Tbsp Cocoa Powder
2 Bananas
10g 70% Dark Chocolate (optional topping)
Method
Place the oats and water in a saucepan on a medium heat and bring to a simmer whilst stirring.
Once the porridge has been simmering for a few minutes add in the milk and cook for a further 8 minutes on a low heat.
Whilst the porridge is cooking, mash up 1 banana with a fork and slice the other into rounds.
Once the porridge has reached a consistency of your liking, add in the cocoa powder and the mashed banana.
To serve, top with the sliced banana and grate the dark chocolate on top.
Nutritional information per serving
Hints and tips:
Sam's Tip
If you want to make this porridge even more exciting sprinkle a tsp of desiccated coconut on top of the porridge for a creamy flavour, texture and colour.