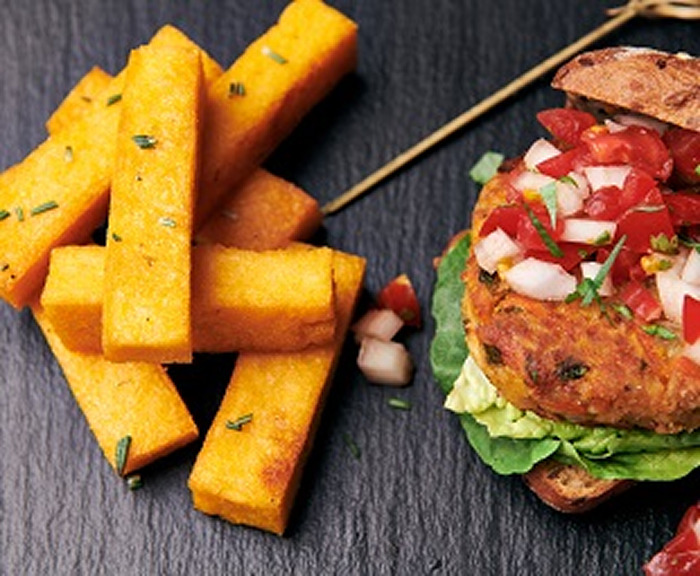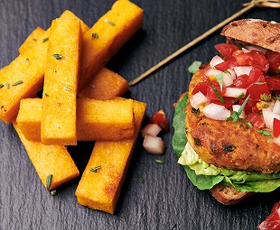 Polenta Chips
Oven baked polenta chips are great alternative to potato fries. We have a recipe here for homemade polenta prepared and then made into chips. We also tried the pre-made polenta chopped and baked, and it was ok.
Credited to: Coeliac UK
Kcal: 284.7
Difficulty: Pretty easy
Serves 6
15 mins prep
25 mins cooking time
Ingredients
Vegetable oil spray
1.5 litre vegetable stock*
375g instant polenta*
50g finely grated hard Italian cheese (optional)
1 tbsp rosemary, finely chopped fresh
Sea and black pepper to taste
Notes: *Please check our Food and Drink Information for suitable products.
Method
Spray a 22 x 30cm baking tray with vegetable oil spray to lightly grease.
Bring the gluten free stock to the boil in a large heavy-based saucepan over a medium heat. Using a whisk, stir in the polenta in a steady stream, whisking until all the polenta is all mixed into the stock.
Reduce heat to medium and cook, stirring constantly with a wooden spoon, for 2 minutes or until mixture thickens and polenta is soft. Remove from heat and stir in the hard Italian cheese (if using).
Pour the polenta evenly over the base of the prepared baking tray and use the back of a spoon to smooth the surface. Cover with cling film and set aside to cool. Place in the fridge for 2 hours or overnight to set.
Turn polenta onto a clean chopping board. Use a sharp knife. Cut lengthways into 2cm strips. Cut each strip into 8cm-long pieces.
Place the chips into an oven tray. Add enough oil spray to give them an even coating.
Bake in oven for 20-25 minutes until golden.
Transfer polenta chips to a serving platter. Sprinkle with rosemary and season with sea salt flakes and pepper and serve.
Nutritional information per serving
Hints and tips:
The recipe is for six as it uses the whole pack. Polenta does freeze, so feel free to freeze after stage 4 and use at a later date.