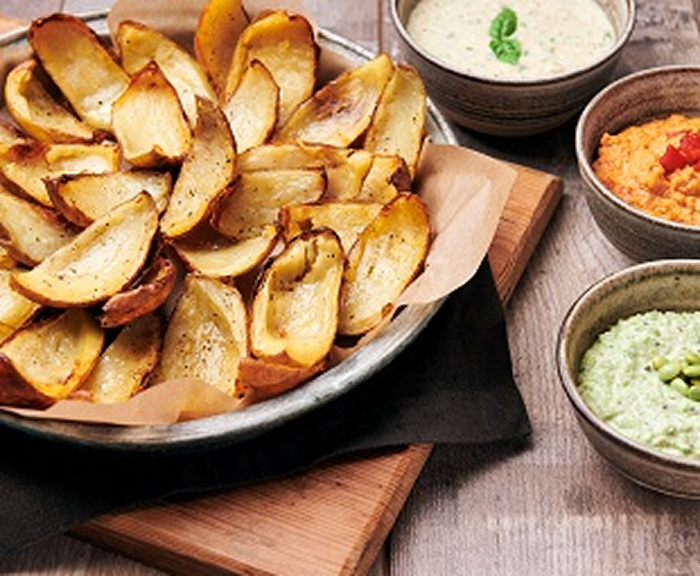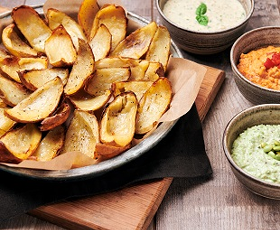 Potato Skins with Dips
Potato skin are full of fibre and naturally gluten free. We have served ours with a selection of dips. Feel free to just make one as each dip is enough for 4 people. They all keep well in the fridge for 2-3 days so if you have any left over, they are great in gluten free wraps with salad, or stirred through gluten free pasta.
Credited to: Coeliac UK
Kcal: 704.0
Difficulty: Pretty easy
Serves 4
5 mins prep
90 mins cooking time
Ingredients
4 large baking potatoes or 6 medium ones

Olive oil for brushing

Salt and pepper
Edamame and Pea Dip
100g edamame

50g frozen peas, defrosted

1 tbsp white wine vinegar

½ tsp GF wholegrain mustard

100ml soured cream, to bind

½ tsp mint sauce
White Bean and Basil Dip
1 can of cannelloni or butter beans, drained

1 garlic clove

3 tbsp olive oil

1 tbsp Basil chopped

1 lemon, juiced

Salt & pepper
Red Pepper Hummus
2 red peppers

1 can chickpeas

1 lemon, juiced

2tbsp tahini

1 garlic clove, minced

2 tbsp olive oil, plus more for serving

1/2 tsp ground cumin

Salt and pepper to taste
Method
Potato Skins
Scrub the potatoes clean, then bake them in an oven at 200°C, 400°F Gas mark 6 for about an hour until they are cooked through. You will know that they are done if they give a little when squeezed.
Cut the potatoes into quarters and scoop out the insides leaving about 1cm of potato on the skin. (Reserve the scooped out potato for another dish).
Now increase the heat of the oven to 220C°, 425°F gas mark 7. Brush the potato skins with a little olive oil, covering all the skins, outside and in. Sprinkle with salt.
Place on a tray in the oven.
Cook for 10 minutes on one side, then flip the skins over and cook for another 10 minutes. Remove from oven and cool until they are cool enough to handle.
Remove the core of the peppers, and then cut them into large flat pieces.
Arrange the pepper pieces, skin-side up, on a baking sheet. Grill them for 5-10 minutes, until the pepper skins have charred.
Place the peppers to a re-sealable plastic bag. Seal this, and then wait 10 to 15 minutes until the peppers are cool enough to handle. Gently peel away the charred pepper skin and discard. Reserve 1 to 2 pieces of the peeled roasted pepper pieces to use as a garnish when serving, then roughly chop the rest.
Pop all the other ingredients into the blender and blitz to a smooth dip and top with the garnish.
Edamame and pea dip
Reserve a few edamame beans for garnish, then place all the other ingredients into the blender and blitz to a smooth dip.
White Bean and Basil Dip
Place all the ingredients into the blender and blitz to a smooth dip
Nutritional information per serving