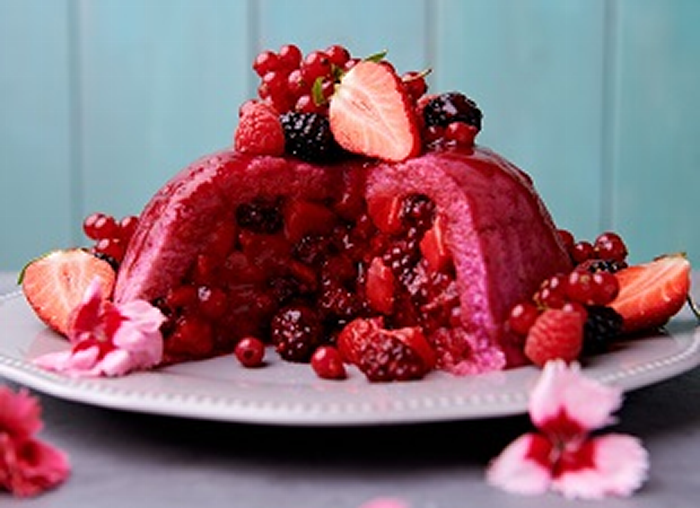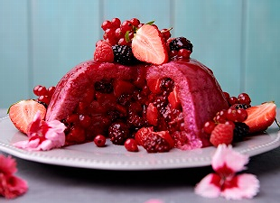 Reduced Sugar Summer Pudding
This is a lovely fresh pudding. We have removed all the refined sugar and just sweetened it with a brown rice syrup. It's a great pudding to make in advance, and once made will last for up to 3 days in the fridge.
Credited to: Coeliac UK
Kcal: 106.4
Serves 12
20 mins prep
10 mins cooking time
Ingredients
300g raspberries
250g blackberries
100g redcurrants
400g strawberries
50g brown rice syrup
400g gluten-free unsliced loaf
clotted cream, to serve (optional)
Fresh mint to garnish
Notes: *Please check our Food and Drink Information for suitable products.
Method
Wash all the fruit and reserve a few for garnish.
Place the raspberries, blackcurrants, and redcurrants in a large pan with 60ml water and the brown rice syrup. Gently heat this for 3 minutes until the juice from the fruit starts to seep out. Add the strawberries and cook for a further 2 minutes.
Remove the pan form the heat, then drain the juice from the fruit through a sieve set over a large bowl.
Line a 1.2-litre pudding basin with a double layer of clingfilm, leaving an overlap around the top.
Remove the crusts from the gluten free bread and slice the loaf into 1cm-thick slices along the length of the loaf.
To assemble the pudding, dip the slices of bread into the strained fruit juice, then use them to line the basin. Start with the bottom then lay soaked pieces along the sides of the bowl. If you have any gaps left at the end, patch these up with any bread, but make sure you save some for the base.
Tip the fruit into the lined basin. Top the pudding with a layer of bread. This will become the base when you tip the pudding out. Reserve 2 tbsp of the fruit juices and then pour any remaining juice over the pudding. Wrap the overhanging cling film over the top.
Place a small plate and weights on top of the cling-film thus squashing the fruit and bread together.
Leave the pudding weighed down in the fridge for at least a couple of hours, or overnight if possible.
To serve, unwrap the cling film and place a serving plate over the pudding. Flip it over, remove the basin and carefully peel away the cling film, top with reserved fruit and juice. Serve in slices.
Nutritional information per serving
Hints and tips: