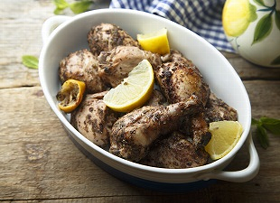 Lemon, Honey and Thyme Chicken
This is a simple refreshing summer recipe with great flavour. Serving with the salad provides a great source of iron and calcium.
Credited to: Coeliac UK
Kcal: 638.6
Difficulty: Pretty easy
Ingredients
For the chicken
4 chicken thighs (or 750g)
2 whole cloves
2 tablespoons olive oil
3 tablespoon clear honey
2 lemons (juice)
4 sprigs of thyme (removed from stalk)
For the Salad
2 red peppers, cut into 4 large slices and seeds removed
1 tablespoon olive oil
180g Kale
400g new potatoes
Method
For the Chicken
Peel the garlic and rub into the chicken.
Place chicken in a dish and add oil, honey, lemon and thyme. Mix ingredients together to ensure all chicken is coated. Leave in fridge to marinade for at least 2 hours. (Can be made the day before to marinade overnight)
Place the chicken thigh/ drumsticks on the barbeque grill. Cook for 20mins, turning frequently. Check that the meat is cooked through and juices run clear.
For the Salad
Place new potatoes in pot of lightly salted water and bring to the boil. Simmer and cook for 10 minutes.
Meanwhile, place the red pepper in a bowl and coat with oil. Place on barbeque grill and cook for 4 to 5 minutes skin side down, then turn and cook for a further 3-4 minutes.
Place kale in a pot of boiling water and cooked for 5 minutes or until wilted. Drain the water.
Chop up the roast pepper and courgette and mix with kale. Add tablespoon extra oil if necessary and enjoy!
Nutritional information per serving
Hints and tips: