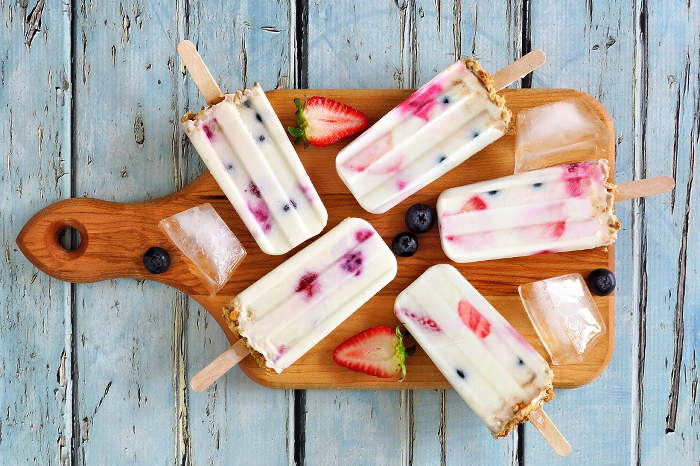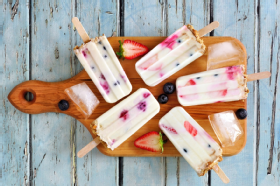 Gluten Free Yoghurt and Fruit Lollies
These lollies are extremely versatile and great for the kids. They are great for a summer day and a refreshing dessert in the sun. The yogurt in this healthy dessert is a great source of calcium. You can make lots of different versions by varying the fruit.
Credited to: Coeliac UK
Kcal: 128.0
Difficulty: Pretty easy
Serves 6
10 mins prep
240 mins cooking time
Ingredients
500g Greek yogurt
Few tablespoons honey
80g seasonal fruits (Try raspberries, strawberries, blueberry, cherries and/ or peaches)
Notes: *Check food and drink information for suitable brands.
Method
Mix together the yogurt and honey in a bowl.
Chop up the fruit. Remove any skin and stones if using peach. Add fruit to the bowl and mix.
Pour mix to ice lolly moulds and place in the freezer.
If you are using yogurt pots, freeze for approximately 2 hours before adding the wooden lolly sticks, then put back in the freezer for a further 2 hours approximately.
When you want to eat, remove from the freezer, place mould in warm water for 30seconds, until the lolly can be pulled out from the mould.
Nutritional information per serving
Hints and tips:
For a treat you can take them out the mould at the end and dip them in melted chocolate* and then in sprinkles*.
You will need ice lolly moulds or you can also use clean yoghurt pots, silicone cake trays or ice cube trays with wooden lolly sticks.