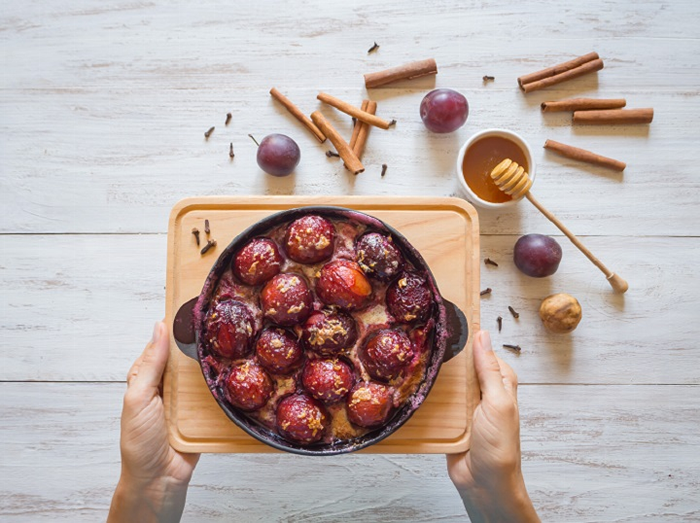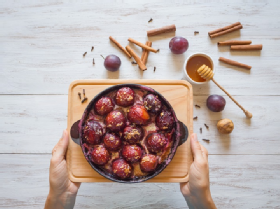 Roasted plums with Honey and Cinnamon
A quick and easy dessert to put together that provides one of your five a day. The honey adds natural sweetness and the addition of pistachios ups the protein content. If you don't have any plums, this also works well with pears, peaches or nectarines.
Credited to: Coeliac UK
Kcal: 485.0
Difficulty: Pretty easy
Serves 4
5 mins prep
25 mins cooking time
Ingredients
8 plums
4 tbsp honey
4 tsp cinnamon
50g butter
150g mascarpone
80g shelled pistachios
Method
Pre heat the oven to 180C or Gas Mark 5
Melt the butter
While the butter is melting, cut the plums in half and remove the stone. Place them cut side up on the baking tray
Brush each plum with a little bit of melted butter then drizzle with the honey and cinnamon and cook for around 20 minutes or until the fruit is soft
While the plums are cooking, place the pistachios on a separate baking tray and toast in the oven for around 5 – 10 minutes or until golden in colour
To serve: divide the fruit among 4 bowls, top with a tbsp of mascarpone a handful of pistachios and a sprinkling of cinnamon.
Nutritional information per serving
Hints and tips:
If there is any fruit leftover, serve this cold with plain yoghurt and gluten free granola for a tasty way to start the day.