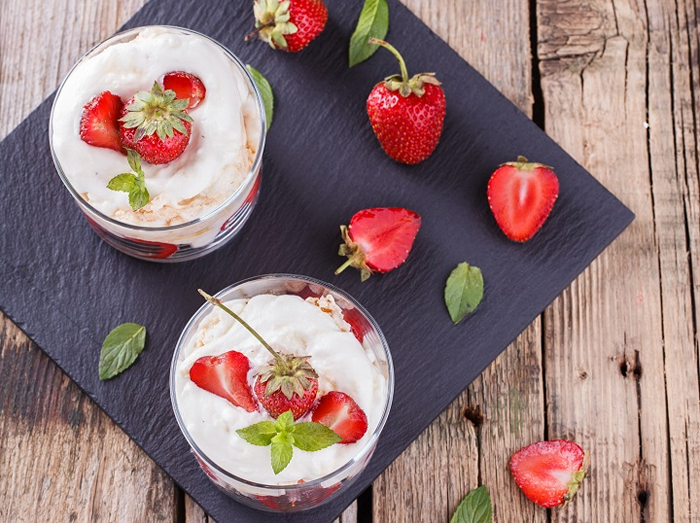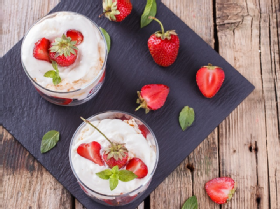 Eton Mess
The ultimate summer dessert, light, fresh and colourful!
Credited to: Coeliac UK
Kcal:
Difficulty: Pretty easy
Serves 4
15 mins prep
10 mins cooking time
Ingredients
500g (18oz) strawberries
2 tsp (10g) caster sugar
2 tsp (10ml) lime juice
4 tbsp water
4 small meringue nests
500ml (17fl oz) double cream
Handful of mint, chopped
Method
Hull and chop the strawberries and put into a saucepan, saving a handful.
On a low heat add the sugar, water and lime juice and leave to simmer while you whip the cream
Whip the cream in a large bowl till thick but still soft
Roughly crumble the 4 meringue nests into the cream, you will need chunks for texture as well as a fine dust
After 10 minutes of simmering, lightly mash the strawberries so the consistency is thick with some lumps, poor onto a plate to cool.
Once the strawberry coulis is cool, fold the meringues, cream, mint and colius saving some for garnish, together. Do not over mix.
Arrange in 4 ramikins or glasses and top each 1 with some of the remaining strawberries, coulis and mint.
Hints and tips:
Try different seasonal fruit including raspberries, blueberries or blackberries.