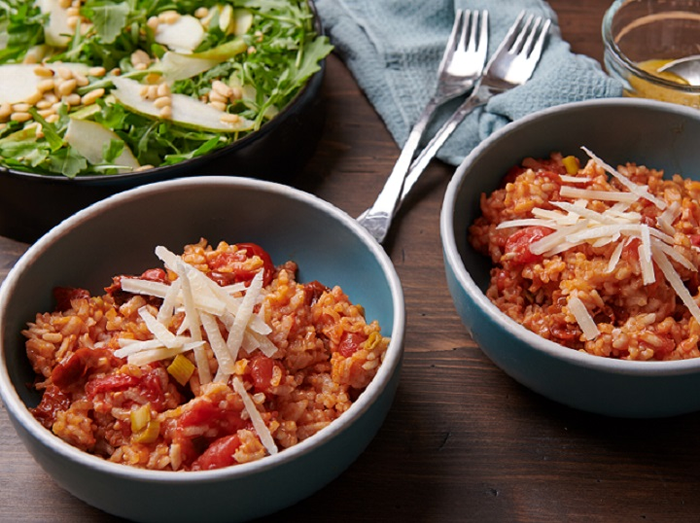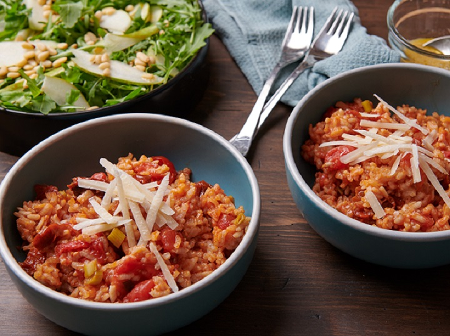 Cherry tomato risotto with rocket and pear
Risotto is really easy in the slow cooker; cooking it this way saves all that stirring. The key is to fry the rice in oil before you add the liquid, and to make sure you measure the liquid accurately so that the rice is cooked, but still holds it shape.
Kcal: 614.0
Ingredients
2 tbs olive oil

285g Arborio rice

600ml vegetable stock, hot*

1 x 400g tinned cherry tomatoes

100g sun-dried tomatoes, roughly chopped

1 tbsp tomato puree

4 cloves garlic, minced

1 bunch spring onion finely sliced

½ tsp salt

¼ tsp freshly ground black pepper

60g grated Parmesan cheese or hard vegetarian cheese
100g rocket

2 pears

50g pinenuts toasted

½ tsp mustard (GF)

1 tsp white wine vinegar

3 tsp olive oil
Notes: * Please check our food and drink information for suitable products.
Method
Place the oil and rice in the slow cooker and stir so the rice is coated in the oil. Add the stock, tinned tomatoes, sundried tomatoes, tomato puree, wine, garlic, onion, salt and black pepper in the slow cooker. Cook on high for 2¼ hours.

Serve with Parmesan or other hard cheese.

To prepare the salad; wash the rocket, chop the pears and top with the toasted pine nuts. Mix the mustard, vinegar and olive oil together.
Nutritional information per serving