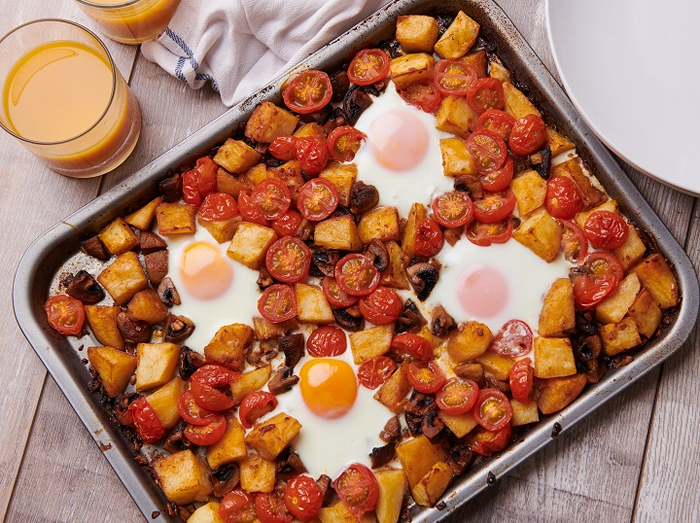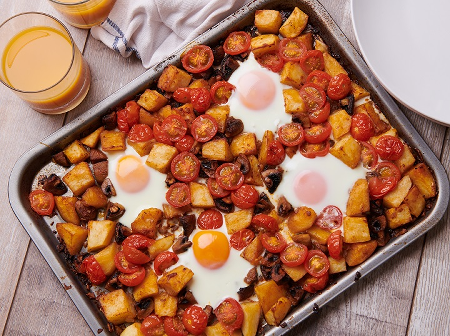 Breakfast Tray Bake
Sunny-side-up eggs are baked with tomatoes, potato and mushrooms, infused with smoked paprika and finished with hot sauce.
Credited to: Coeliac UK
Kcal: 265.1
Difficulty: Pretty easy
Ingredients
2 tbs olive oil
1 small onion, finely diced
1 clove garlic
1 tsp smoked paprika
½ tsp ground black pepper
400g potatoes, 1cm diced
250g mushrooms, quartered
1 tsp salt
400g chopped cherry tomatoes
4 eggs
Hot sauce to taste
Method
Preheat the oven to 200°C/400°F/Gas Mark 6.
Place the onions, garlic, paprika, pepper, potatoes and mushrooms into an oven tray and toss them in the oil.
Place the tray into the oven for 25 minutes, so the potatoes and mushrooms are softening. Add the tomatoes, and make four indentations with the back of a spoon into the mixture. Break one egg into each indentation. Cook for 10-15 minutes (10 minutes for soft yolks or 15 minutes for firm). If desired finish under a hot grill, then serve with hot sauce.
Nutritional information per serving
Hints and tips: