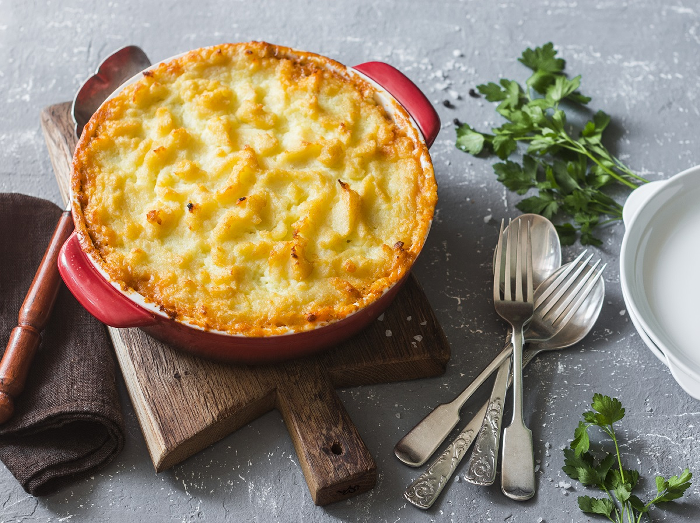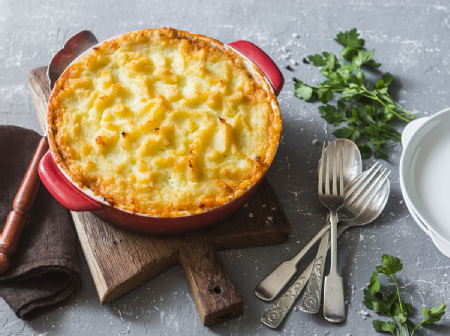 Bean, Lentil and Chard Pie
This tasty vegetarian pie was a bit hit with my son. The lentils are a great source of iron and fibre. If you are short of time, you could swap the ingredients for making the tomato sauce for a carton of passata.
Credited to: Coeliac UK
Kcal: 466.8
Difficulty: Pretty easy
Serves 6
15 mins prep
60 mins cooking time
Ingredients
For the pie filling
100g Puy lentils
2 whole garlic cloves
1 tablespoon olive oil
1 onion
1 x 400g tin chopped tomatoes
1 tablespoon tomato puree
1 vegetable stock cube* with 200ml boiling water
½ carrot (grated)
½ courgette (grated)
1 x 400g tin butter beans
100g chard (remove stems)
½ teaspoon paprika
½ teaspoon cumin
For the mash
800g potato (peeled and chopped)
25g butter
50ml milk
50g cheddar cheese
Notes: *Search our online food and drink directory for suitable products.
Method
Place potatoes in a pan and cook for 20minutes.
Place the lentils in a saucepan and cover with boiling water by 2cm.
Bring to the boil, removing any scum from the surface, then simmer slowly for 20 minutes or until cooked.
Heat oil in the frying pan/large pot. Add onion and the chopped garlic and cook until soft.
Add chopped tomato, puree, grated carrot, courgette and stock with water. Cook for 10mins, then blend until smooth with a food processor/ blender.
Add butter beans, lentils, chard, paprika and cumin to the blended sauce. Cook for further 3-4minutes.
Meanwhile, drain potatoes. Add butter, milk and cheddar cheese and mash.
Place filling mix in casserole dish and top with mashed potato. Cook for 20-25minutes.
Serve
Nutritional information per serving
Hints and tips:
Spinach also works well in this recipe as an alternative to chard.