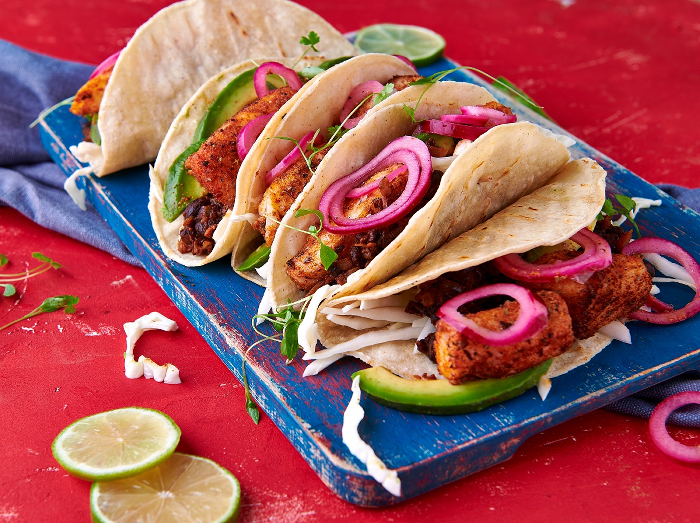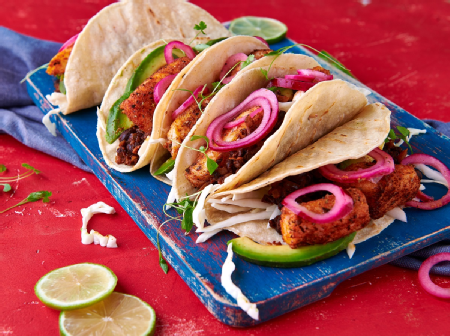 Fish and Black Bean Taco's
This gluten free taco recipe screams flavour and colour. Great to prepare ahead and fill the tacos with the family.
Credited to: Coeliac UK
Kcal: 651.8
Difficulty: More of a challenge
Serves 4
10 mins prep
25 mins cooking time
Ingredients
Mexican Pickled Onion
1 red onion, peeled and thinly sliced into rings
4 limes, juiced
1 tbsp cider vinegar
½ tsp salt
½ tsp ground pepper
Spiced Refried Beans
1 tbsp oil
1 onion, finely chopped
1 garlic, clove crushed
1 can black beans, drained
2 tbsp chipotle paste or 1/2 tsp chilli flakes and 1 tsp of smoked paprika
1 tbsp dark brown sugar
Black pepper and salt to taste
Coated Fish
1 tbsp corn-flour
1 tbsp paprika
1 tsp garlic powder
1 tsp ground cumin
500g cod fillet, cut into chunks
1 tbsp oil
1 lime, cut into wedges
1 avocado, peeled, stoned and sliced
coriander leaves
½ white cabbage, finely shredded
8 corn tortillas or taco's*
Notes: *Please check our online food and drink information for suitable products.
Method
For the Mexican pickled onion, place all the ingredients into a small glass bowl and combine. Reserve in the fridge until needed.
For the spiced refried beans, heat the oil and add the chopped onion. Cook until the onion becomes transparent, then add the garlic and beans, with a little bit of water, plus the chipotle paste and the dark brown sugar, and season with salt and pepper.
Cook for 2 minutes before mashing, then continue to cook for a further 3-4 minutes stirring continually. Reserve until needed.
In a bowl, mix together the corn flour spices for the fish, the add the fish, and tumble the pieces to coat with the spices.
Heat the oil in a pan, and cook the fish for 2-3 minutes on each side on a medium heat.
Warm the tortillas and assemble with the black beans, avocado, cabbage, fish, coriander, Mexican picked onions and lime wedges.
Nutritional information per serving
Hints and tips:
If you're making this for kids, go easy on the chipotle paste so it's not too hot!