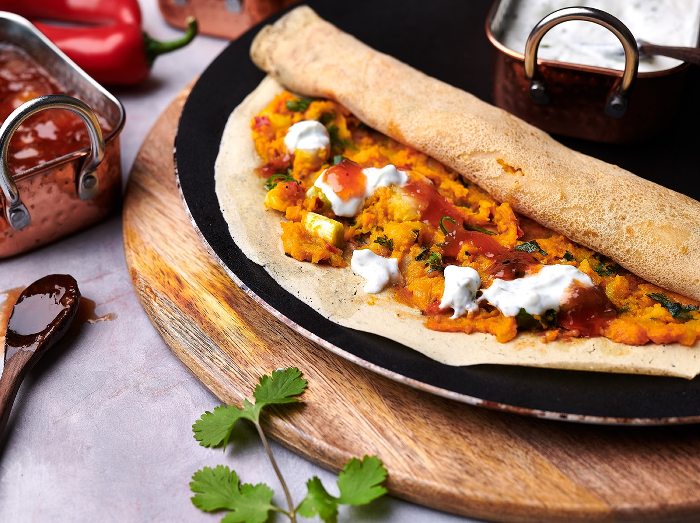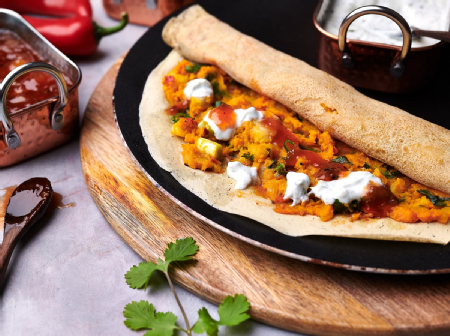 Indian Dosa
This is an easy-to-make light Indian snack, deliciously gluten-free. Feel free to adjust the spice and chilli content to suit your taste.
Credited to: Coeliac UK
Kcal: 434.3
Difficulty: Pretty easy
Serves 4
10 mins prep
90 mins cooking time
Ingredients
Filling
2 baking potatoes
2 sweet potatoes
1 tbsp oil
1 tsp chilli flakes
1 fresh red chilli
1 tbsp fresh ginger, peeled and grated
1½ teaspoons mustard seeds
1 tsp ground turmeric
4 spring onions, washed, trimmed and finely sliced
1 tbsp fresh coriander, chopped
1 lime
Batter
100g gram flour*
100g plain gluten free flour*
½ tsp bicarbonate of soda
2 tsp mustard seeds
400ml water
Oil for greasing the pan
Notes: *Please check our online food and drink information for suitable products.
Method
Preheat the oven to 200°C/400°F/gas 6.
Wash the potatoes and sweet potatoes, then bake in the oven for one hour, or until soft and cooked through.
Once cooked, cut the potatoes in half and then scoop out the flesh and roughly mash.
Heat the oil in a pan over a medium heat. Add the both chillies, ginger, mustard seeds, and turmeric. Fry until the mustard seeds start to pop, moving the spice by shaking the pan regularly.
Pour the spice mix over the potatoes, then gently mix together. Taste and season with salt and pepper. Squeeze in the lime juice, add the spring onions and coriander, then mix together.
For the batter, add gram flour and gluten free plain flour to a large bowl with the bicarbonate soda and mustard seeds. Gradually whisk in the water, to make a loose batter.
Place a large non-stick frying pan over a medium-high heat and brush with a little oil.
Using a jug, pour in enough batter to the pan and immediately twist so the batter coats the base of the pan (the amount use will depend on your pan size, you could make 4 or 8. As soon as the top looks set add a few heaped tablespoons of potato filling and gently spread across the dosa.
Once the base is crispy, loosely roll up the dosa in the pan and you're ready to go.
Served with minted yoghurt, chutney and wedges of lime for squeezing over.
Nutritional information per serving
Hints and tips:
Serve with mango chutney, onion salad, mint yogurt, and lime wedges