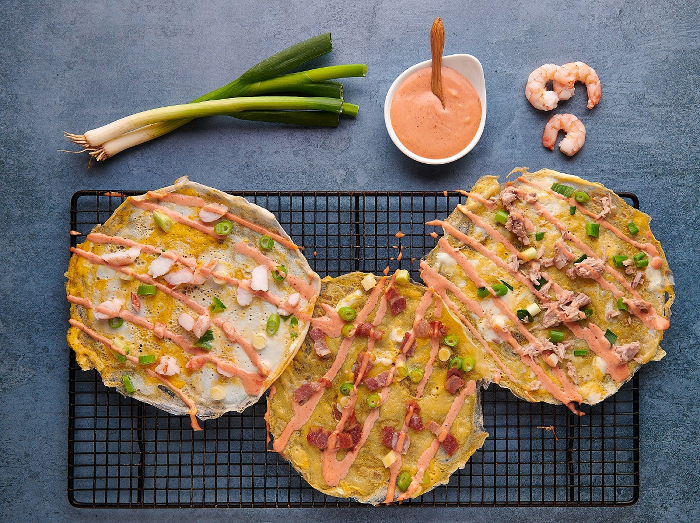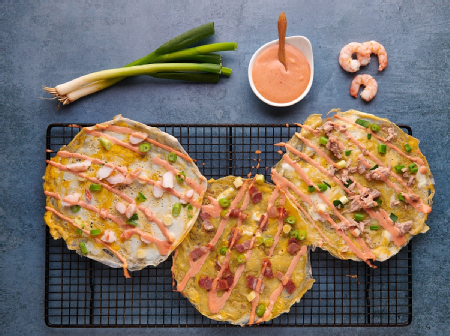 Vietnamese Pizza
This egg and rice paper pizza is really easy. The secret to cooking the rice paper is to have it on an even cooking surface. We used a cast iron frying pan on low-medium heat and brushed with vegetable oil so there's no sticking and it cooks evenly.
Credited to: Coeliac UK
Kcal: 84.8
Difficulty: Pretty easy
Serves 4
5 mins prep
20 mins cooking time
Ingredients
40g mayonnaise
1tbsp Sriracha or a hot sauce, plus extra for serving if you wish.
4 Vietnamese rice paper sheets (these are naturally gluten free)
4 Eggs
4 Spring onions, washed and chopped
100g prawns, or tinned tuna, or cooked bacon
Notes: *Please check our online food and drink information for suitable products.
Method
Mix the mayonnaise with Sriracha or hot sauce and reserve until needed.
Heat your frying pan on low to medium heat. Brush with a little oil.
While that's heating, in a small bowl, mix an egg with a sprinkling of the chopped spring onion.
Place one sheet of rice paper in the pan and pour on the egg mix, spreading to the edges immediately with the back of a spoon so the rice paper is covered.
Move the pizza in the pan with tongs to make sure it's not sticking.
Add a quarter of your chosen topping (prawns, tuna or cooked bacon) and leave the pizza to cook for an extra minute or two, until nice and crispy. Sprinkle over with the remaining spring onion. Top with a drizzle of the Sriracha mayonnaise.
Repeat until you have made all four pizzas.
Nutritional information per serving
Hints and tips:
You can top your pizza with anything you wish. We used prawns, tuna and bacon. The Sriracha mayonnaise gives it a real kick; you can make it like we have or buy a pre-mixed one.