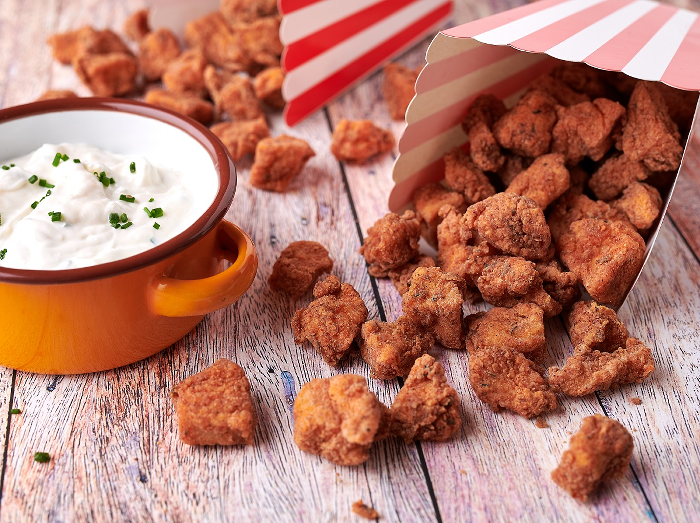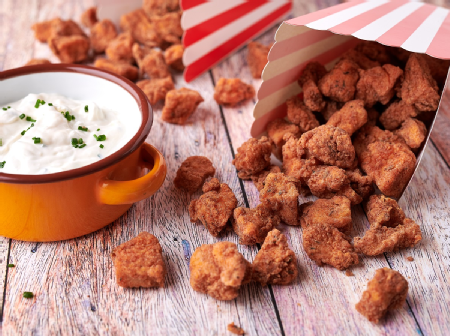 Popcorn chicken with Garlic Dip
Everyone loves fried chicken. This gluten free recipe is definitely a favourite with all the family. Serve with your favour sauce or try our fresh garlic dip.
Credited to: Coeliac UK
Kcal: 382.5
Difficulty: Pretty easy
Serves 4
10 mins prep
5 mins cooking time
Ingredients
Popcorn Chicken
1 tsp salt
150g gluten free plain flour *
½ tbsp ground pepper
2 tbsp paprika
1/2 tsp garlic powder
1/2 tbsp mustard powder
1 tsp dried thyme
1/2 tsp oregano
1 tsp ground ginger
2 eggs
2 chicken breasts, boneless, skinless and cut into 1cm chunks
Garlic Dip
50ml yogurt
50ml mayonnaise
1 clove garlic, peeled and crushed
1 tbsp fresh chive or any herb of your choice
Salt and pepper to taste
Notes: *Please check our online food and drink information for suitable products.
Method
In a large frying pan, add oil until the oil is about one inch (2.5cm) deep, and heat over medium-high.
Mix all the dry ingredients together in a medium sized bowl.
In another medium sized bowl, break the two eggs and slightly beat them.
Place the chicken pieces into the bowl with the eggs and toss to coat.
Using a fork, transfer the chicken pieces to the flour mixture and toss/stir to coat pieces evenly with seasoning.
Space the chicken pieces around the frying pan or sauce pan in a single layer, and cook until golden and crisp - about 5 minutes in total. You might need to cook it in two batches depending on the size of your pan.
While the chicken is cooking, mix together all the ingredient for the dip, and season to taste.
When the chicken is cooked, remove from the oil and place on paper towel to drain off the excessive oil, then serve with the dip.
Nutritional information per serving
Hints and tips: