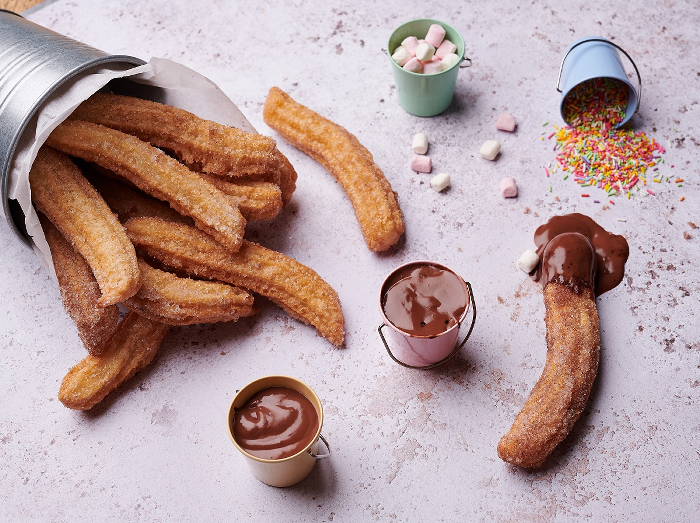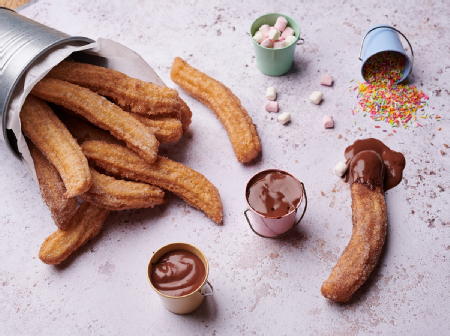 Gluten Free Churros with Chocolate Sauce
These are easy to make at home. You will need a star nozzle and a piping bag if you want them to have the really authentic look.
Credited to: Coeliac UK
Kcal: 579.3
Difficulty: Pretty easy
Serves 4
20 mins prep
20 mins cooking time
Ingredients
Chocolate Sauce
75g dark chocolate*, broken into pieces
125ml double cream
Sugar coating
50g granulated sugar
1 tsp ground cinnamon
Churros
225ml water
50g unsalted butter
25g sugar
1 pinch of salt
150g gluten free plain flour*
1 large egg
½ tsp vanilla extract
Vegetable oil for frying
Notes: *Please check our online food and drink information for suitable products.
Method
To make the chocolate sauce, heat the cream in a pan and bring to the boil. Remove from the heat, add the chocolate and stir it until everything is fully melted and combined. Reserve until needed.
Combine cinnamon and sugar in a shallow bowl and set aside (this is to roll the Churros in after they are cooked).
To make the Churros – Place the water, butter, sugar, and salt in a medium sized pan. Bring this mixture to the boil, then reduce the heat. Stir in the flour until fully combined, then turn off the heat.
Leave the mixture to cool for a few minutes. Then place in a mixer with the egg and vanilla, and mix on high until smooth. When it's done, transfer it into a piping bag with star nozzle.
Heat up enough oil in a large pan or fryer to deep fry the churros. Use a thermometer to check the temperature of the oil. You are looking for 180C.
Pipe a 5-6-inch length churro directly into the oil, using scissors to cut them from the tip of the piping bag. You should be able to fit about 3 at a time in the fryer or pan.
Let them fry for 2-3 minutes on each side, flipping to make sure it's fried all around and golden brown.
Remove from the oil, place on a paper-towel for a minute, then roll each one in the cinnamon and sugar mix.
Repeat the process until all the batter is used up.
Serve with the chocolate sauce, mini marsh mellows and gluten free sprinkles!
Nutritional information per serving
Hints and tips:
Use sprinkles and mini marsh mellows to dip in after the chocolate sauce