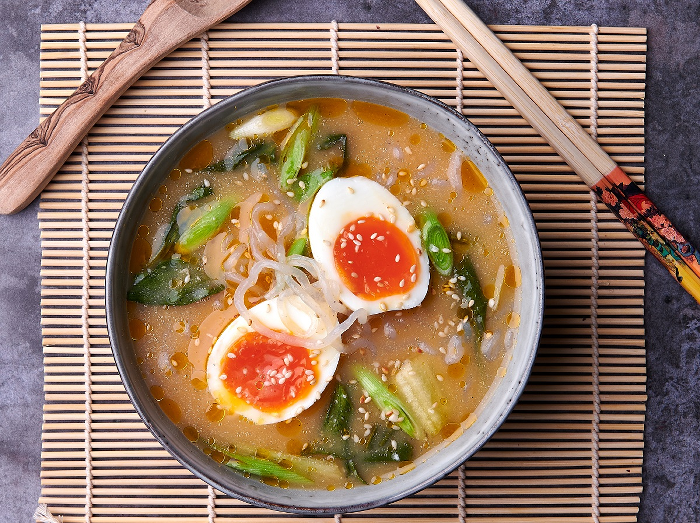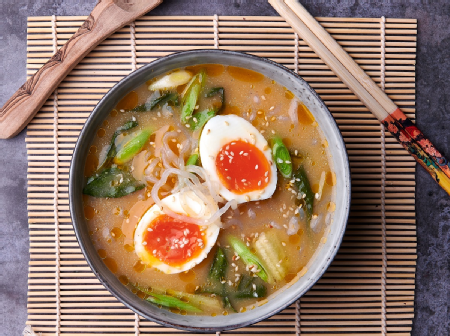 Miso Ramen Soup with Pak Choi and Egg
This is really easy to make and easy to customise to your personal preferences. It is a great soup to warm and fill you up all year round.
Credited to: Coeliac UK
Kcal: 607.2
Difficulty: Pretty easy
Serves 4
10 mins prep
10 mins cooking time
Ingredients
500g rice noodles*
4 free-range egg, soft boiled
2 Pak choi, trimmed
4 spring onions, finely chopped
Chilli oil, to serve
1 tbsp of toasted sesame seeds
1 litre of water
4 tbsp red miso paste*
1 tsp sesame oil
Salt and white pepper to taste
Notes: *Please check our online food and drink information for suitable products.
Method
Pour 1 litre of water into a saucepan. Bring to the boil. Add the noodles and cook on medium heat for about a minute, or until almost cooked according to packet instructions.
In a separate little bowl, combine the red miso with a few tablespoons of hot water taken from the saucepan. Stir the miso and water together until you get a smooth runny paste.
When the noodles are almost cooked, lower the heat and stir in the miso solution, and sesame oil. Taste and adjust the seasoning with salt and pepper, if necessary.
Add the pak choi into the simmering soup, letting it poach gently with the noodles. Cook until the pak choi is tender.
Carefully scoop the noodles and pak choi into a bowl before pouring the soup and adding the boiled egg cut in half.
Finish with a drizzle of chill oil and a sprinkle of spring onions and toasted sesame seeds.
Nutritional information per serving