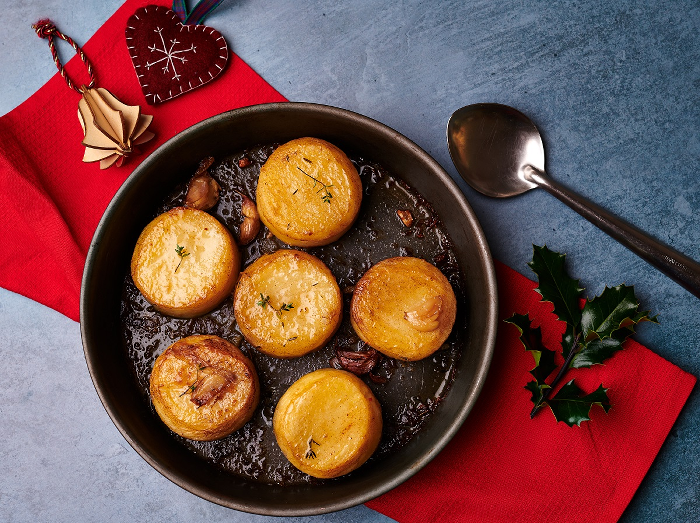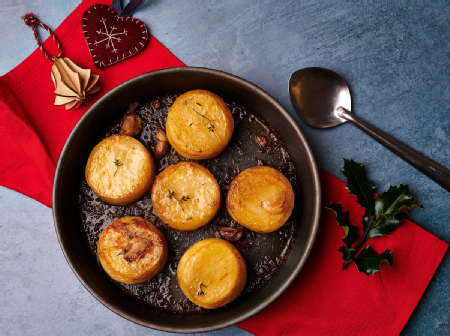 Fondant Potato
An indulgent way to serve the humble potato. Flavoured with garlic, thyme and butter, these delicious fondant potatoes are perfect served with a roast dinner. You can shape your potatoes with a cutter if you want to do it like a chef, or you can freestyle and cut by hand.
Credited to: Coeliac UK
Kcal: 342.0
Serves 6
10 mins prep
40 mins cooking time
Ingredients
6 large potatoes
2 cloves garlic, smashed with skin on
2 or 3 of sprigs of thyme
50g butter
75ml stock vegetable or chicken*
Salt and black pepper to taste
Notes: *Find suitable products on our online food and drink directory
Method
Pre-heat the oven to 180°C, 350°F, gas mark 4.
Peel the potatoes. Make each one into a disc. Do this by cutting a flat top and bottom to each potato. Then cut out a disc of potato with a pastry cutter. Cut off the sharp corners to make a nice disc shape. (Save all the trimmings; you can then use for another recipe, mash or soup etc.)
Melt the butter in a pan over a medium heat until it starts to foam. Place the potatoes in the pan and cook for about 5-6 minutes until golden on the bottom. When done turn over the potato and cook for the same time again.
Add the stock. Put in the crushed garlic clove and thyme sprigs, and season well.
Cover with a lid or tin foil and place in the oven for 25-30 minutes, covered until the potato is cooked. Keep warm.
Nutritional information per serving
Hints and tips: