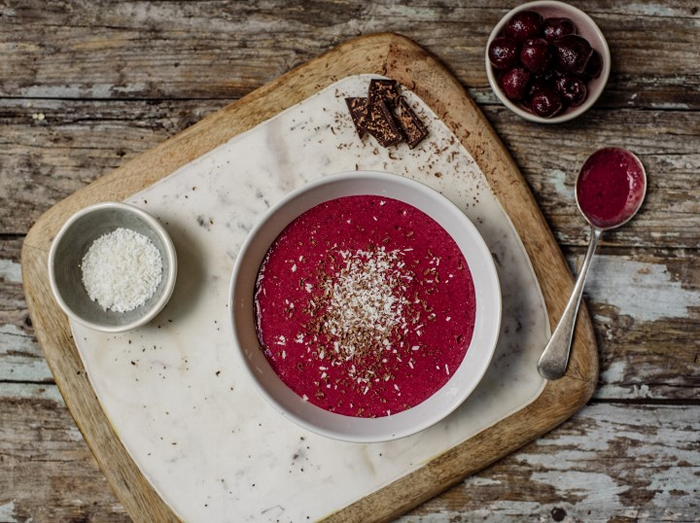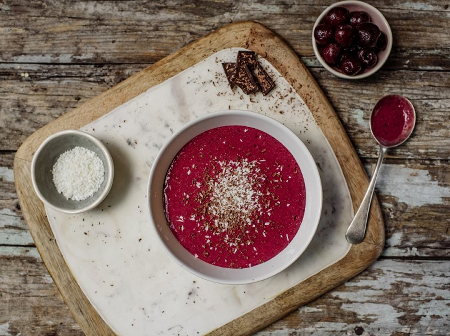 Dark Cherry and Oat Smoothie Bowl
Give your breakfast a boost and try this delicious smoothie bowl, so easy to make, healthy and you get to have a little bit of chocolate for breakfast, win-win!
Credited to: Nairn's
Kcal:
Ingredients
40g Nairn's Gluten Free Porridge Oats*
80g Coconut Milk
2 handfuls of frozen Dark Sweet Cherries
1 medium Banana
1tsp grated Dark Chocolate*
1tsp Desiccated Coconut
Notes: *Search our online food and drink information for suitable products.
Method
Soak oats in coconut milk overnight or at least an hour before preparing the smoothie
Add soaked oats to a blender along with frozen cherries and banana
Blend everything together. You can adjust consistency by adding more coconut milk (to make it more "runny") or adding more frozen cherries (to make it thicker). Your smoothie will hold topping better if it is thicker rather than thinner
Get creative styling the toppings – we suggest dark chocolate and desiccated coconut for a well rounded taste but feel free to create your own topping.
Hints and tips: