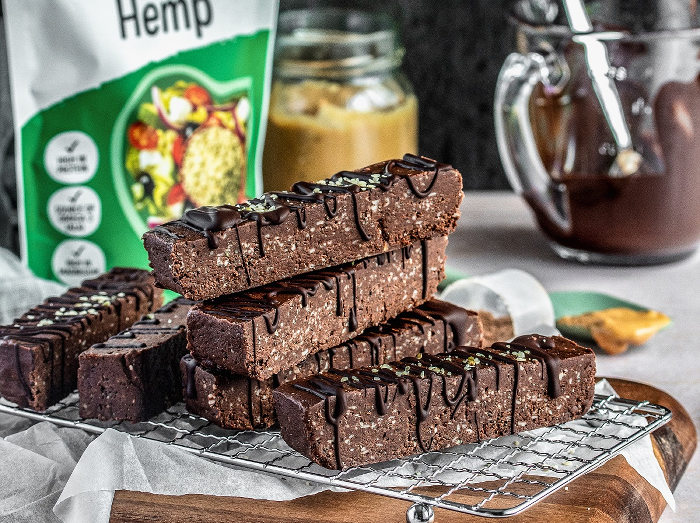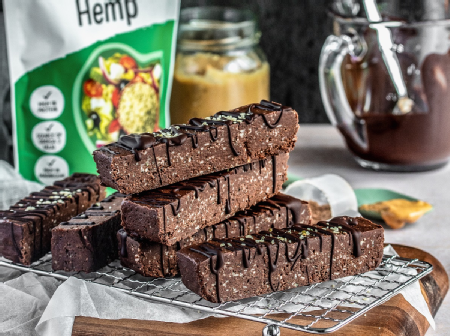 Chocolate Protein Bars
Fudgy chocolate protein bars laced with hemp and chia seeds for a beautiful subtle crunch in every bite!
Credited to: Linwoods
Kcal:
Difficulty: Pretty easy
Serves 8
10 mins prep
180 mins cooking time
Ingredients
100g pitted medjool dates
180g smooth peanut butter or almond butter
60g coconut oil, melted
150g chocolate or chocolate peanut plant based protein powder*
20g raw cacao or cocoa powder
50g Linwoods Shelled Hemp
50g Linwoods Whole Chia Seeds
50g dark chocolate melted for topping*
Notes: *Find suitable products on our Food and Drink Information Service
Method
1. Blend together the Medjool dates through to the melted coconut oil in a food processor until smooth.
2. Add protein powder and cacao powder and blend to form a thick paste.
3. Add in seeds and pulse to combine.
4. Line a 2lb standard loaf with baking paper.
5. Transfer the bar mixture to the tin and leave to set in the fridge for 3 hours or overnight. You could also stick it into the freezer for an hour.
6. Slice into 7-8 bars and drizzle with melted chocolate.
7. Store the chocolate protein bars in the fridge for up to two weeks in a sealed container or freeze for up to one month.
Hints and tips:
It's best to use one that is a mixture of different plant proteins. A 100% rice will be too chalky, a 100% pea will dry the mixture out. The one we used was a mixture of hemp, peanut, rice, pumpkin and sunflower seed protein.