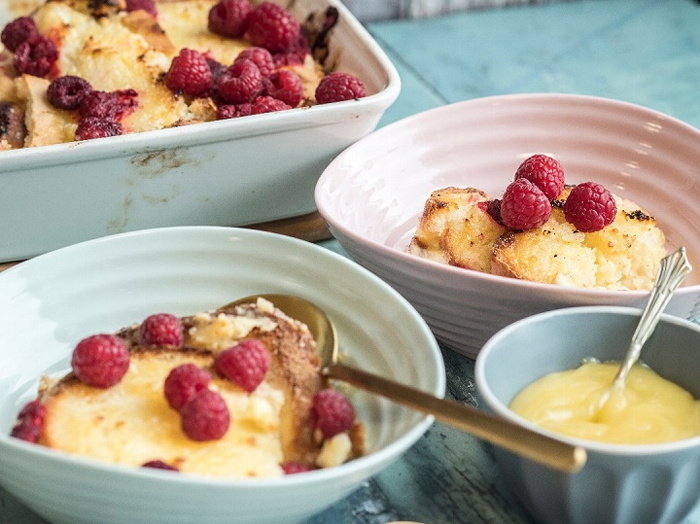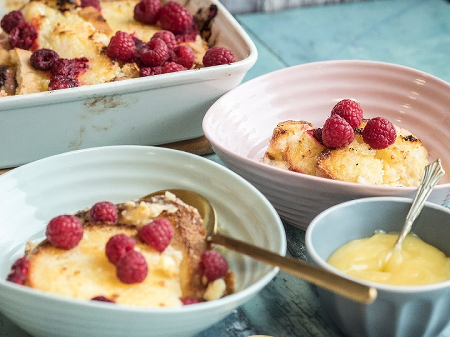 Gluten Free Raspberry and Lemon Pudding
The gluten free brioche soaks up the fresh flavours of lemon and raspberry, resulting in a pudding that tastes of sunshine
Credited to: Panasonic
Kcal:
Difficulty: Pretty easy
Serves 6
30 mins prep
25 mins cooking time
Ingredients
Brioche
200g milk of your choice
200g carbonated water
7g fast acting yeast
60g caster sugar or coconut sugar
500g gluten free bread flour
1 tsp xanthan gum
1tsp baking powder
70g melted butter, dairy free spread or olive oil
2 eggs, beaten
½ tsp sea salt
Gluten Free Raspberry and Lemon Pudding
150g raspberries

Orange juice enough to cover and soak the raspberries

4 tbsp Lemon curd*
Butter to grease dish
8-10 slices gluten free brioche*
200ml whole milk
200ml double cream
1 tsp vanilla essence
4 large eggs
75g caster sugar
Sprinkle of icing sugar, to serve.
Notes: *Find suitable products on our Food and Drink Information
Method
Method
1. Place all the brioche ingredients into the bread pan in the order listed
2. Set the bread maker to the GLUTEN FREE programme
3. Remove the bread at the end of the bake cycle and allow to cool
4. Soak the fruit in the orange juice for at least 20 mins.
5. Butter the dish
6. Spread the lemon curd on to the slices of brioche and arrange in the dish.
7. Dot the raspberries between the slices.
8. Heat the milk and cream in a jug on MEDIUM MICROWAVE for 3mins. Mix in the vanilla essence, eggs and caster sugar. Pour over the bread and leave to stand for 15mins.
9. Bake on CONVECTION 200°C for 25 mins or until golden and set.
10. Dust with icing sugar before serving.
Hints and tips:
If you don't have a breadmaker you can buy gluten free brioche and start from step number 4.