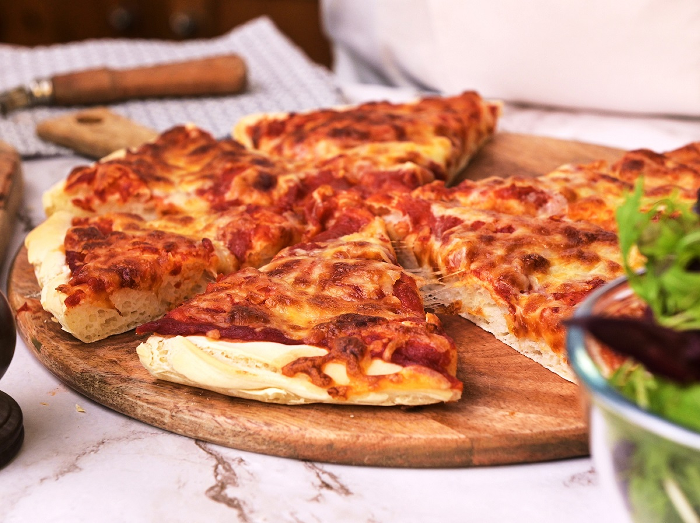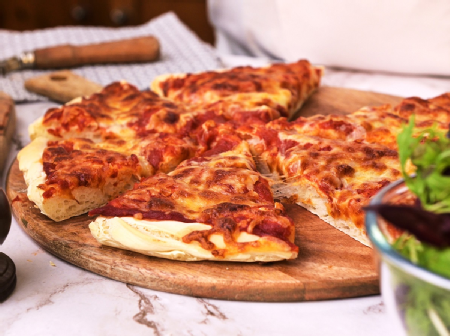 Gluten Free Pizza
This pizza is really simple and to match the simplicity we have just used the classic topping of cheese and tomato. See the tips for more topping ideas! You'll get best results using a pizza tray and the dough needs to prove for 30 minutes.
Credited to: Coeliac UK
Kcal: 422.3
Difficulty: Pretty easy
Serves 4
40 mins prep
15 mins cooking time
Ingredients
230ml warm water
½ tsp sugar
5g dried yeast*
1 medium egg
1 tsp cider or white wine vinegar
1 tbsp olive oil
300g gluten free bread flour*
Pinch of salt
150g pizza tomato sauce*
100g Grated mozzarella
Notes: *find suitable products on our Food Information Service
Method
Preheat the oven to 200°C, 400°F, gas mark 6.
Place the warm water, sugar and yeast into a bowl.
Mix egg, vinegar with olive oil.
Place the gluten free bread flour and salt in a bowl, add the yeast and the egg mixture and mix until it forms a smooth dough.
Line your pizza tray with baking parchment, spread the dough over the tray and leave it in a warm place to prove for 30 minutes. You are looking for your dough to double in size.
Once the dough has doubled, top with pizza tomato sauce and mozzarella cheese.
Bake for 15 minutes or until the dough is cooked through and the cheese melted.
Nutritional information per serving
Hints and tips: