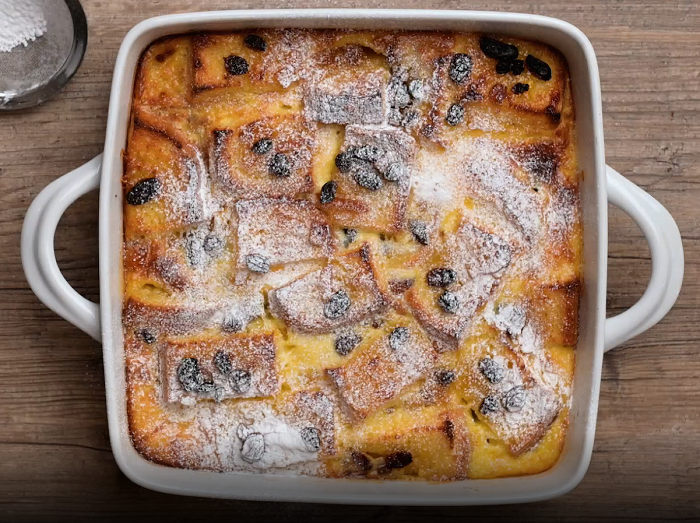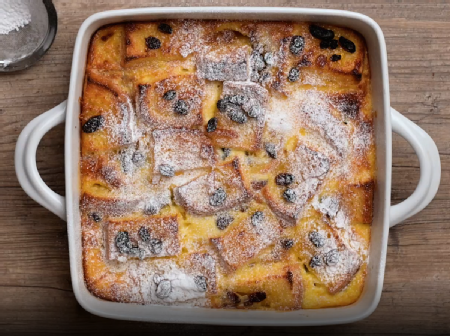 Bread and Butter Pudding
We've got two recipes in one, classic white loaf and a decadent bread and butter pudding. It will warm and comfort us throughout any season and we have partnered with Panasonic to make it Gluten Free for all to enjoy! Don't have a bread maker, this recipe works just as well with any gluten free loaf.
Credited to: Coeliac UK
Kcal: 601.0
Difficulty: More of a challenge
Serves 4
15 mins prep
145 mins cooking time
Ingredients
For the gluten free bread
350ml water
1tsp cider vinegar
4tsp vegetable oil
2 medium eggs
1tsp salt
1tbsp sugar
1 tbsp milk powder
450g gluten free bread flour*
1½ tsp fast action easy blend yeast*
For the bread and butter pudding
200ml whole milk
200ml double cream
1 tsp vanilla essence
4 large eggs
75g caster sugar
400g gluten free bread, sliced*
50g butter
100g orange marmalade
50g mixed fruit
Notes: *search our food and drink information for suitable products.
Method
For the gluten free bread
Place water, vinegar, oil, eggs, salt, sugar and milk powder into the bread pan.
Add the flour and place the bread pan in the bread maker. Close the lid and add the yeast to the yeast hopper.
Switch the bread maker on and set to gluten free setting with the dark crust or bake rapid 1 hour 55, dark crust, and large size.
For the gluten free bread and butter pudding
Mix the milk, cream vanilla essence, egg and sugar together, then reserve until needed.
Butter the dish.
Spread the butter and marmalade on to the slices of bread and cut into small pieces, then arrange in dish.
Pour the cream mix over the bread sprinkle with mixed fruit and leave to stand for 15mins.
Bake at 180C for 25 mins or until golden and set.
To serve, sprinkle with icing sugar and serve with custard or ice cream.
Nutritional information per serving
Hints and tips:
Want to make your own gluten free bread using a bread maker? We've tested this recipe in the Panasonic R2530 Breadmaker. We love it with the slight marmalade twist, if that's not your thing you can just leave it out.