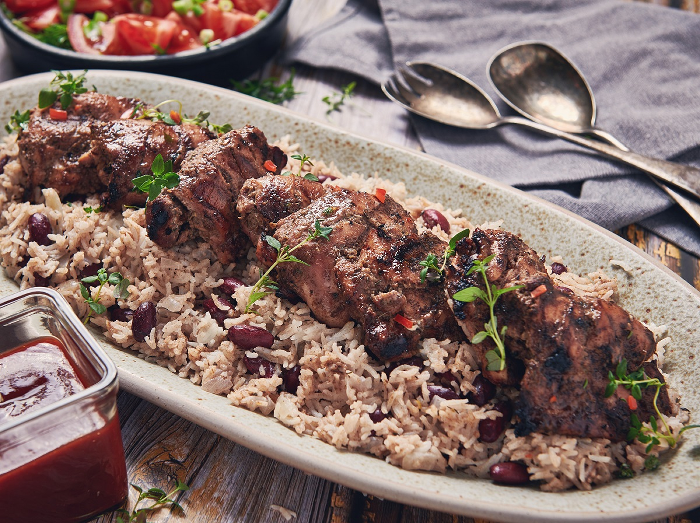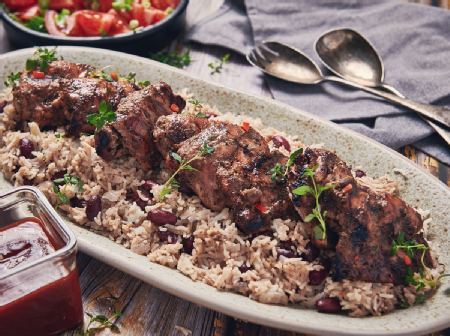 BBQ Jerk Chicken
It is a tasty and great way to serve chicken for a BBQ. We used boneless thighs as they hold moisture and don't dry out like chicken breasts. We have recommended 2-3 scotch bonnets, but you can use red chillies.
Credited to: Coeliac UK
Kcal: 411.9
Ingredients
10g ginger, peeled and roughly chopped
2 spring onions, chopped
3 cloves of garlic, peeled and chopped
1 onion, peeled and chopped
2- 3 scotch bonnets, remove stalk and seeds or red chillies
1 tbsp Allspice
½ tsp dried thyme
2 limes, juiced
2 tbsp gluten free soy sauce*
2 tbsp oil
2 tbsp brown sugar
½ tsp salt
8 large chicken thighs, boneless
Notes: *search our online food and drink information for suitable products
Method
Place the ginger, spring onions, garlic, onion, chilli, allspice, thyme, lime juice, soy, oil, brown sugar and salt in a food processor and blend until smooth.
Score into the chicken thighs. Place in a bowl and then coat with the marinade, cover well. Leave to marinate overnight in the refrigerator.
Remove the chicken from the refrigerator 1 hour before cooking.
Place chicken thighs onto the BBQ and cook for 15-20 minutes or until the juices run clear.
Nutritional information per serving
Hints and tips:
You can oven roast the chicken at 180°C for 35-45 minutes if you don't have BBQ weather.