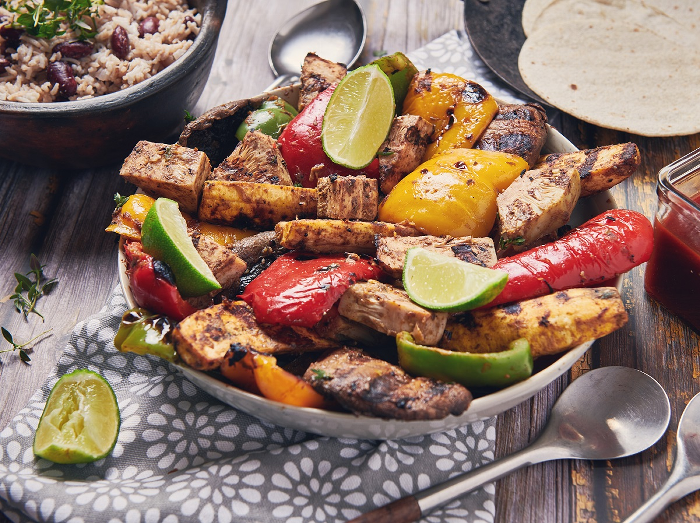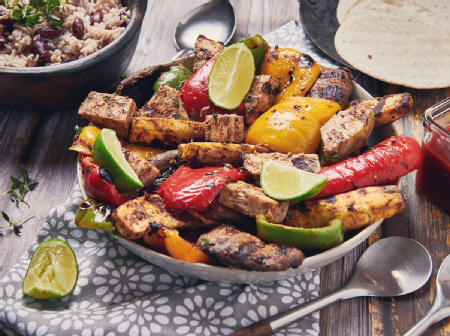 Caribbean BBQ Jackfruit with Vegetables
The jackfruit goes well with the jerk marinade, though if you can't find any or if it's not to your taste this marinade works well on any vegetables you like.
Credited to: Coeliac UK
Kcal: 323.8
Serves 4
10 mins prep
15 mins cooking time
Ingredients
For the jerk BBQ marinade
1 onion 
2 tsp BBQ sauce**
1 lime, juiced
2 tbsp olive oil
2 tbsp soy sauce*
2 cloves garlic, peeled and crushed
10g ginger, peeled
1 tsp ground allspice
½ tsp ground cinnamon
¾ tsp ground nutmeg
½ green chilli, seeds removed
1 avocado, flesh only
2 tins jackfruit in water, drained
1 plantain slightly overripe, peeled and sliced
1 red pepper, cut into four, seeds removed
1 yellow pepper, cut into four, seeds removed
4 large mushrooms, whole
Sea and pepper to taste
Notes: *search our online food and drink information service for suitable products **search our online recipe database for the BBQ sauce recipe
Method
In a food processor, blend all the ingredients for BBQ sauce.
Place the Jackfruit, Plantain, peppers and mushrooms in a plastic food bag or dish bag with marinade and let sit for ½ -1 hour.
Cook on the BBQ for 10 minutes, turning regularly until everything is tender.
Nutritional information per serving
Hints and tips:
Try this marinade on corn on the cob and you won't be disappointed!