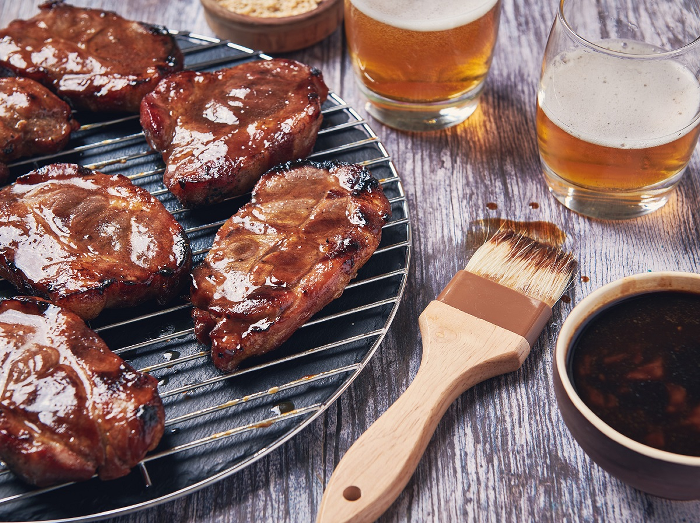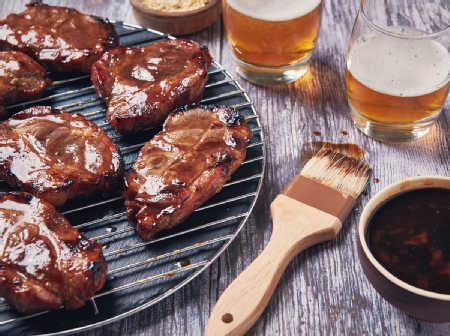 Pork Steaks with Asian BBQ Sauce
A great marinade, you can make it in advance. Keep your meat chilled in the marinade until the BBQ is ready.
Credited to: Coeliac UK
Kcal: 834.5
Serves 4
20 mins prep
10 mins cooking time
Ingredients
70g brown sugar
60ml hoisin sauce*
60ml oyster sauce*
2tbsp soy sauce*
2tbsp dry sherry
2 garlic cloves, finely chopped
2 tsp Chinese five-spice
¾ tsp salt
8 pork steaks
Notes: *search our online food and drink information for suitable products
Method
Place all ingredients apart from the pork into a pan. Cook over medium heat until the sugar has dissolved. Simmer for 10 minutes until it coats the back of a spoon. Allow to cool.
Place the BBQ sauce in a large plastic zip-seal bag.
Place the pork steaks in the bag. Once you have sealed the bag, make sure the sauce completely covers the pork. Leave for at least 2 hrs, preferably overnight.
Preheat the BBQ, remove the pork from the bag and place on a tray, spoon over the remaining sauce.
Place Pork steaks on the BBQ and cook for 3 minutes. Turn over, brush with the marinade and cook for another 3 minutes or until the juices run clear. Remove from the BBQ and rest for 2 minutes.
Nutritional information per serving
Hints and tips:
This Asian BBQ marinade also works really well in Portabella Mushrooms. Marinade the whole mushrooms for 1 hour. Grill on the BBQ for 3 minutes on each side. Brushing with extra marinade as you grill.