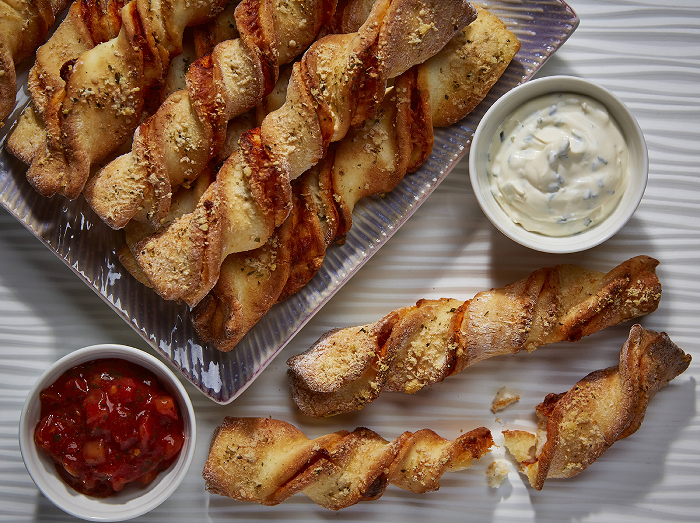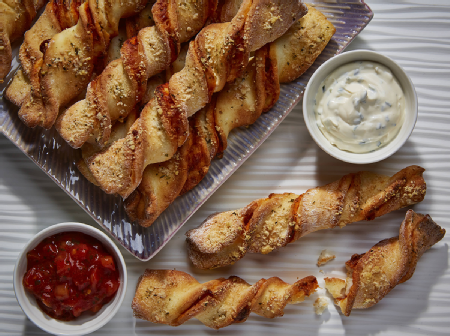 Gluten Free Pizza Twists
A perfect pizza flavoured snack on the go; so simple to make using Juvela's super versatile flour mix.
Credited to: Juvela
Kcal:
Serves 6
15 mins prep
15 mins cooking time
Ingredients
250g Juvela Gluten Free White Mix*
1 tsp salt
1 tsp dried yeast* (supplied with Mix)
1 tbsp vegetable oil
2 tbsp pizza topping sauce or pasta sauce*
25g mozzarella/cheddar, grated
Olive oil for brushing
1 tsp oregano
1 tsp parmesan (optional)
Notes: *Search our online food and drink information for suitable products
Method
In a large bowl, mix together the flour mix and yeast. Stir in the oil and sufficient water to form a soft but not sticky dough.
Knead the dough until smooth on a surface lightly dusted with Mix. Split the dough in half and roll each piece out thinly into a rectangle (approx. 6"x 4" in size and ¼" in thickness).
Spread one piece of dough with pizza topping and top with grated cheese.
Pop the second piece of dough on top and press around edges to seal.
Using a sharp knife, cut into 6 strips, twist each strip and transfer to a baking tray.
Sprinkle with oregano and grated parmesan and bake in a preheated oven (200°C/180°C Fan/Gas Mark 6) for 10-15minutes until golden.
Hints and tips: