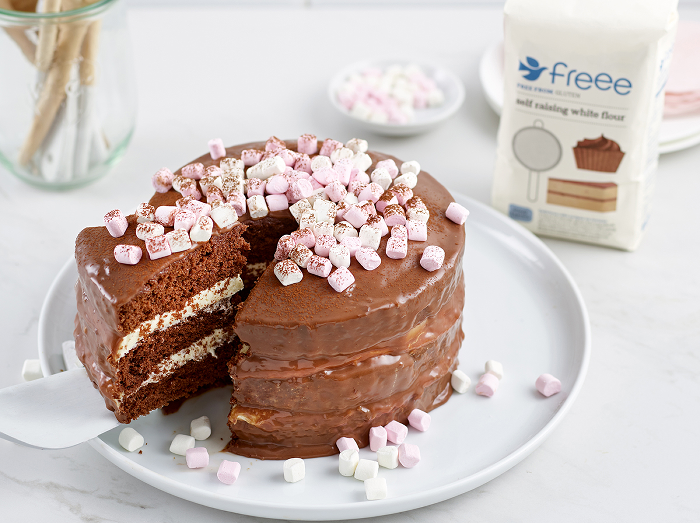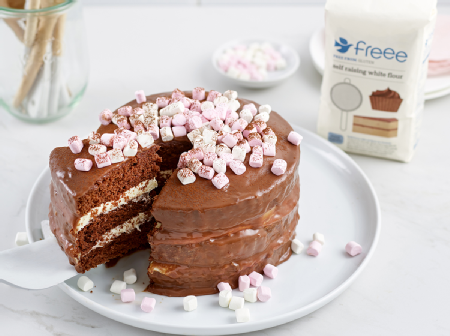 Hot Chocolate Cake
This deliciously impressive gluten free cake makes a wonderful centrepiece for celebrations like birthdays, parties and dinners.
Credited to: FREEE
Kcal:
Difficulty: More of a challenge
Serves 10
15 mins prep
30 mins cooking time
Ingredients
Chocolate Cake
300g FREEE Self Raising White Flour
300g caster sugar
300g butter (or vegan butter)
4 eggs (or mix 4 tbsp FREEE Chickpea Flour + 8 tbsp water)
50g cocoa
175ml milk (or vegan milk)
2 tsp vanilla extract
oil, for tins
Buttercream Filling
250g butter (or vegan butter)
300g icing sugar
Chocolate Ganache Topping
200g double cream (or vegan cream)
200g milk chocolate (or dairy free chocolate)
25g mini marshmallows (or vegan marshmallows)
cocoa, for dusting
Notes: *search our online food and drink information for suitable products
Method
Pre-heat the oven to 190°C, Fan 170°C, 375°F, Gas 5.
Rub some oil around the inside of three 20cm/8" round baking tins or insert a baking liner.
Put the butter and caster sugar into a mixing bowl and beat together until light and fluffy.
Break one egg (or add the chickpea flour + water) into the bowl and beat to combine.
Sieve the cocoa into the bowl and stir to combine. Break the remaining eggs into the bowl, beating them in one at a time.
Sieve half the prepared flour into the bowl and stir to combine, mix in the milk and vanilla extract and sieve the remaining flour into the bowl and beat well.
Divide the mixture between the prepared cake tins and smooth the top and bake for 30-35 minutes and cool on a wire rack.
Meanwhile make the buttercream filling, put the butter into a bowl and beat it until it is light and fluffy.
Sieve the icing sugar into the bowl and beat to combine.
Divide the mixture between the top of two cold cakes and spread it out evenly. Place one cake on top of the other and place the last sponge on top.
For the chocolate ganache topping, put the cream into a saucepan over a medium heat.
When the cream is almost boiling, remove from the pan from the heat and stir in the chocolate.
Allow the topping to cool stirring until it thickens slightly, spread the topping over the top and sides of the cake.
Scatter marshmallows and sieve a little cocoa powder over the top to finish.
Hints and tips:
It's easy to make it vegan using the ingredient swaps.