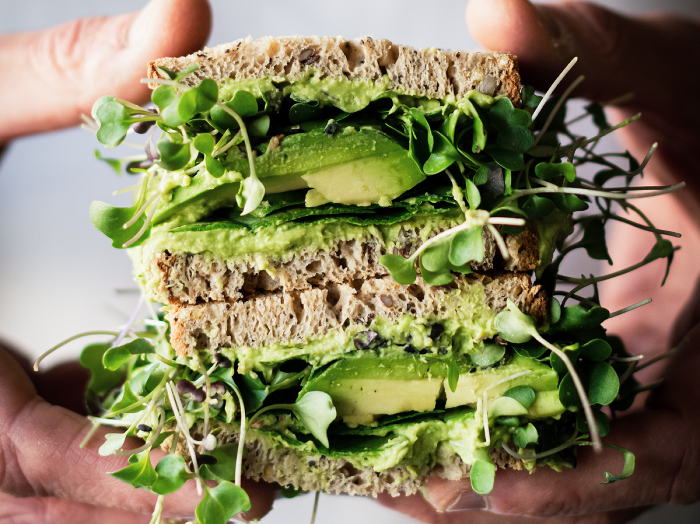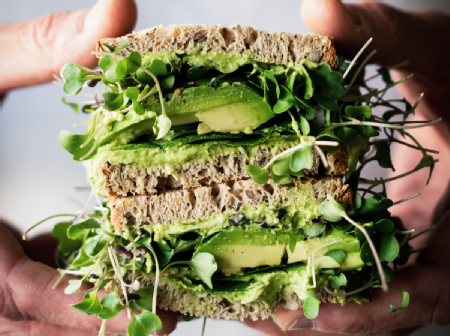 Green Goodness Sandwich
Our Green Goodness Sandwich has been specially created using our new and improved Brown Seeded Loaf. Our loaf is made with sourdough and buckwheat and topped with flaxseeds. We've kept our long slices because we know bigger slices mean better sandwiches. For this recipe we have created a pea hummus topped with avocado, cucumber, and spinach leaves, packed with green goodness. Did we also mention our loaves are gluten, wheat, and dairy free and full of fibre. Enjoy!
Credited to: BFree
Kcal:
Ingredients
For the pea hummus
1 tin chickpeas
Handful of peas blanched
Handful of mixed herbs, tarragon, parsley, coriander, mint
1 small garlic clove
Juice of one lemon
3 tablespoons of tahini
Salt and pepper
1 tablespoon of extra virgin olive oil
For the sandwich
1 avocado
Cress or micro herbs
Sesame seeds
Spinach leaves
¼ cucumber
4 slices BFree Brown seeded loaf*
Notes: *find suitable products on our food information service
Method
In a food processor add the drained and rinsed chickpeas, peas, mixed herbs, juice of one lemon, roughly chopped garlic clove, tahini, salt and pepper and the extra virgin olive oil. Blend until smooth and set aside.
Slice the avocado and cucumber.
Lightly toast the slices of bread, spread both sides with a thick layer of the pea hummus.
Top one slice with avocado, spinach leaves, cucumber slices, cress or micro herbs and top with the other slice.