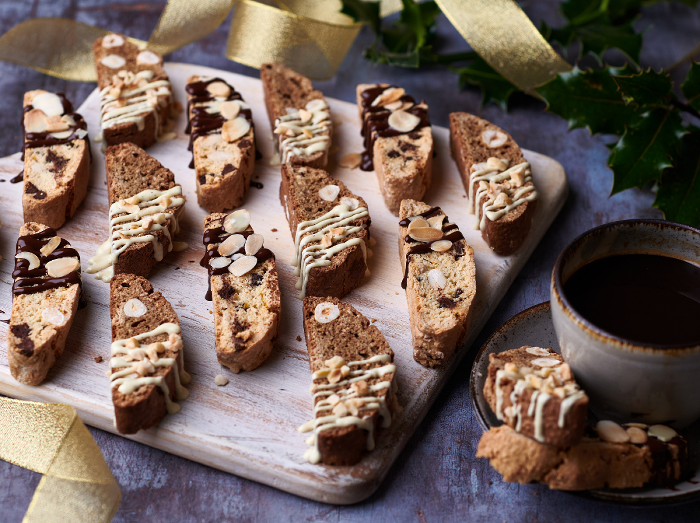 Biscotti
Making biscotti is a great Christmas gift. You can make it on your own, or it's a great recipe to get children involved in mixing and decorating. We could not decide on our favourite flavour combination, so here is our basic recipe, and with two different flavour combinations to try; chocolate orange and almond, and coffee and hazelnut with cinnamon.
Credited to: Coeliac UK
Kcal:
Serves 30
30 mins prep
45 mins cooking time
Ingredients
Biscotti Base
2 eggs
100g caster sugar
150g plain gluten free flour, plus extra for dusting
1 tsp xanthan gum
½ tsp bicarbonate of soda
100g ground almonds
Chocolate Orange and Almond
1 orange, zested
50g whole almonds
75g dark chocolate chips*
Decoration for Chocolate Orange and Almond
100g dark chocolate for coating*
1 orange, zested
25g toasted flaked almonds
Coffee and Hazelnut with Cinnamon
2tbs coffee (add a drop of boiling water to make a paste)
75g hazelnuts
1tsp cinnamon
Decoration for Coffee and Hazelnut with Cinnamon
100g dark chocolate for coating*
25g toasted hazelnuts, chopped
Notes: *Search our online Food and Drink Information for suitable products
Method
Heat the oven to 180ᵒC, 350ᵒF, gas 4 and line a large baking sheet with baking paper. Whisk together the eggs and sugar until light and fluffy.
Sift the gluten free flour, xanthan gum and bicarbonate of soda into a bowl. Add the ground almonds, and fold into the egg mix to make a soft dough. Then add your chosen flavour combination and mix through.
Using gluten free plain flour, lightly dust your work area. Then divide the dough into two and shape into two log shapes. Transfer both logs to a baking sheet. Flatten to a 3cm thickness, then bake for 25 minutes or until lightly browned.
Remove from the baking tray and slide onto a chopping board.
Reduce the oven to 150ᵒC/300ᵒF/Gas 2.
Cut the logs into 1cm thick slices and return to the baking sheet, cut-sides up. Bake for 10-15 minutes until crisp, then cool on a wire rack.
Once cool, you can melt the chocolate and dip in the biscotti's to decorate then top with your chosen flavour.
Hints and tips:
Biscotti will keep in an air tight container for up to two weeks.