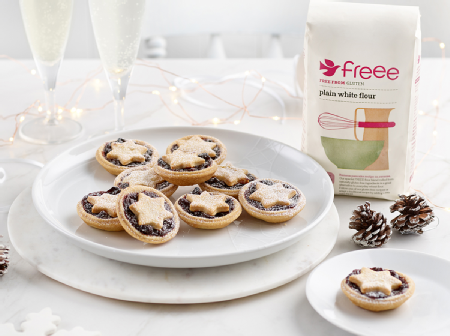 Gluten Free Star Mince Tarts
These Star Mince Tarts are an alternative take on the traditional mince pie with cute little star-shaped pastry tops. These tarts are perfect for festive gatherings to share with friends and family.
Credited to: FREEE
Kcal:
Serves 12
25 mins cooking time
Ingredients
Pastry
200g FREEE Plain White Flour*
25g icing sugar
½ tsp FREEE Xanthan Gum*
100g butter (or vegan butter)
1 egg
1-2 tbsp cold water
Filling
200g mincemeat*
1 tbsp apricot jam, warmed
flour, for dusting
Notes: *Find these products on our Food Information Service
Method
Preheat the oven to 180°C, Fan 160°C, 350°F, Gas 4. Measure the flour, sugar and xanthan gum into a bowl, stir to combine and sieve it into a mixing bowl.
Add the butter and using a fork or pastry blender, work the butter into the flour until the mixture resembles breadcrumbs. Avoid using your fingers for this.
Break the egg into the bowl and stir in enough of the water to bring the pastry easily together into a soft, slightly sticky ball of dough.
Cover and rest the pastry for 15 minutes.
Rub some butter around the insides of a 12-hole tart tray and pre-heat the oven.
Cut off a third of the dough and leave it to continue resting.
Dust the work surface with flour, put the larger piece of dough in the middle and sprinkle it with flour.
Roll out the pastry until it is the thickness of a pound coin.
Select a pastry cutter or cup a little bigger than the holes of the tart tray and press it into the dough to make circles. Lift the circles on to the prepared tray.
Filling & Topping
Put a teaspoon of mincemeat in the centre of each tart.
Roll the remaining pastry on the flour dusted surface and press the star cutter into the dough to make star shapes.
Gently place these over the mincemeat.
Bake for 25 minutes.
Remove the tart tray from the oven and brush the pastry stars with a little apricot jam before cooking for a further 5 minutes.