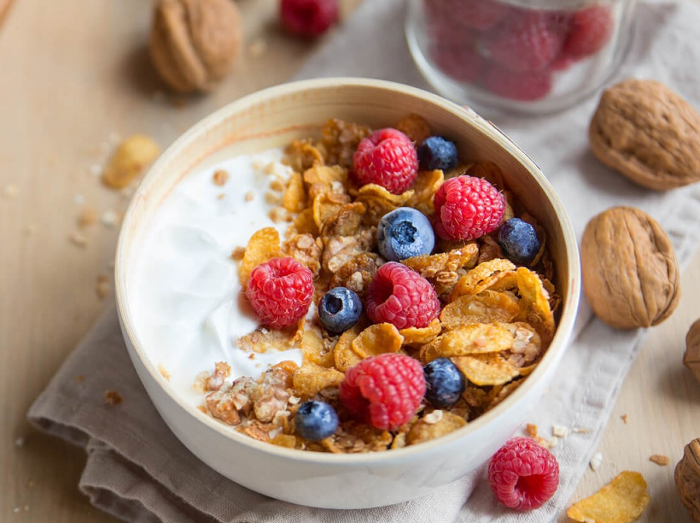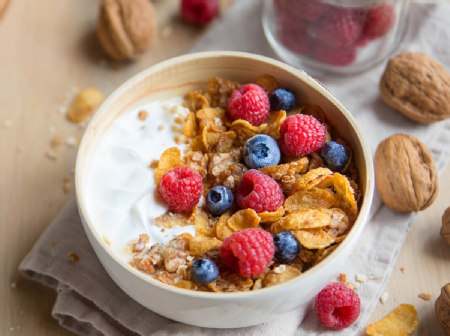 Gluten Free Corn Flake and Berry Oatmeal Muesli
Add some excitement to your breakfast bowl with this gluten free muesli recipe which uses crunchy GO FREE Corn Flakes. And the best thing? As well as being tasty and gluten free, they're also a source of iron and 5 vitamins!
Credited to: NESTLÉ GO FREE
Kcal:
Difficulty: Pretty easy
Serves 4
15 mins prep
15 mins cooking time
Ingredients
65g NESTLÉ GO FREE Corn Flakes Cereal

95g gluten free old-fashioned oats*

40g chopped walnuts

2tbsp honey

1tbsp butter, melted

175ml honey yoghurt or vanilla yoghurt

2 cups fresh berries.
Notes: *Check Coeliac UK's Food and Drink Information for suitable products
Method
Heat the oven to 180°C

On a 39x27x2.5-cm (15x10x1-inch) baking sheet, spread walnuts, NESTLÉ GO FREE Corn Flakes Cereal and oats

In a small bowl, mix honey and butter; drizzle over cereal mixture

Bake for 15 to 18 minutes, stirring halfway through, until light golden brown

Serve muesli topped with yoghurt and berries.
Hints and tips:
Looking for even more choice? Also available in the GO FREE range: Rice Pops and Honey Flakes. Get ready to enjoy all the variety, taste and joy of cereal at breakfast!

To find out where to get your box, click here.