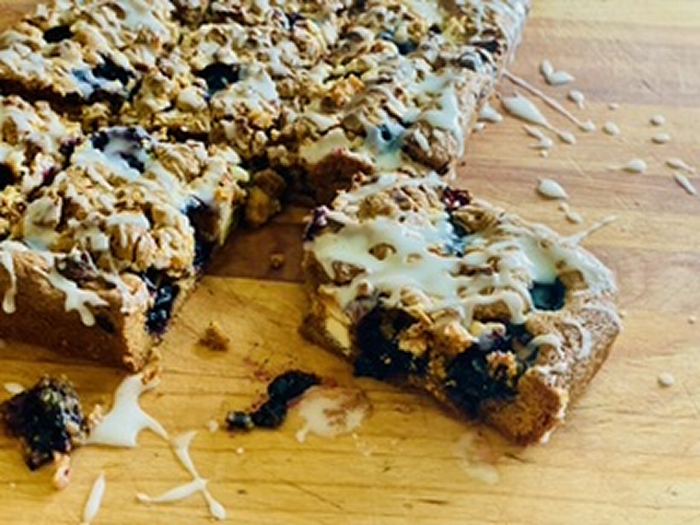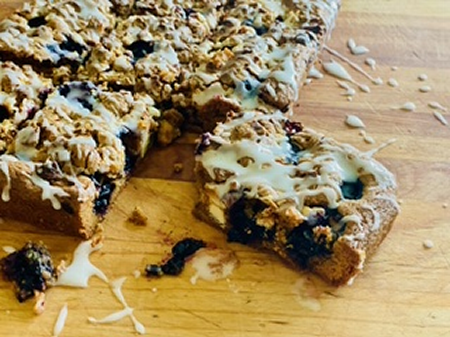 Jubilee Gluten Free Blondies
I wanted to do a traybake for the celebrations as they're easy to transport if you are visiting or attending a street party. These Gluten Free White Chocolate & Blueberry Blondies with Lemon icing really work well. Simple to make & delicious.
Credited to: Jane Devonshire
Kcal: 222.0
Difficulty: Pretty easy
Serves 18
10 mins prep
25 mins cooking time
Ingredients
For the Blondies:
250g gluten free plain flour*
200g dark brown sugar
125g butter, softened
1 large egg
1tsp vanilla bean paste
1tsp Xanthan Gum
1/2tsp salt
150g white chocolate chips or chopped white chocolate*
125g fresh blueberries.
For the icing drizzle:
100g icing sugar
Juice of 1 large lemon (or ready made juice).
Notes: *Check Coeliac UK's Food and Drink Information for suitable products
Method
Preheat your oven to 180C and line a 17 x 25cm baking tray with greaseproof paper
Cream together the butter and sugar until light and fluffy
Add in one egg and whisk
Mix in the flour, salt, Xanthan Gum and vanilla bean paste until you have a stiff dough
Smooth into your lined baking tray and sprinkle over your blueberries & white chocolate gently pressing into mixture
Bake in oven for 20-25 minutes until golden and cooked through and then leave to cool
To make icing drizzle, mix the lemon juice into the icing sugar until you have a drizzling consistency
Drizzle over your traybake & cut into 18 equal portions.
Nutritional information per serving