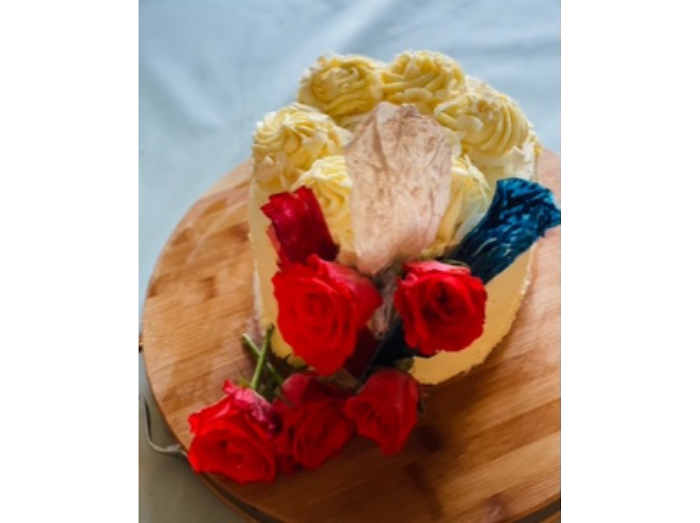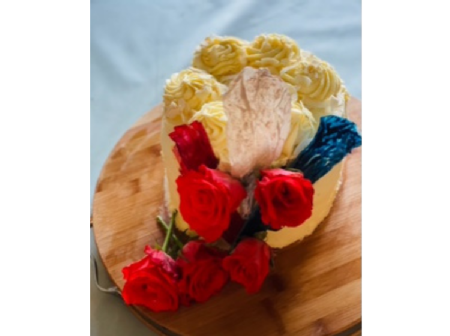 Jubilee Gluten Free Celebration Cake
This cake is such a show stopper & I have worked so hard to make it extra special to celebrate such an incredible occasion and for such an amazing charity, Coeliac UK. I wanted to make a white cake with dramatic decoration so I hope you love it as much as we do. It is a four layer centrepiece, but if you want to simplify, just halve the recipe & make two layers instead.
Credited to: Jane Devonshire
Kcal: 988.0
Difficulty: More of a challenge
Serves 20
30 mins prep
30 mins cooking time
Ingredients
For the sponge:
375g caster sugar
375g unsalted butter
6 large eggs
325g gluten free plain flour* (no xanthan or binding agent)
100g desiccated coconut
3/4tsp Xanthan Gum
1tbsp baking powder*
1tsp vanilla bean paste, optional
2tbsp white Rum, optional.
For the buttercream:
750g unsalted butter, room temperature
800-900g icing sugar, sifted
500g white chocolate*, melted.
For the fruit filling:
300g passionfruit curd
1 passionfruit
300g frozen or fresh mango, cubed and well drained
300g fresh or tinned pineapple, well drained.
For decoration:
Coconut flakes
3 rice paper sheets, optional
Red, silver and blue food colouring or lustre.
Notes: *Check Coeliac UK's Food and Drink Information for suitable products
Method
To make the cake:
Preheat oven to 180C and line two 19cm spring form non stick tins with greaseproof paper

To make the cake, cream together sugar & butter until light and creamy

Add the eggs one at a time, continuing to whisk on high

In a separate bowl, stir the Xanthan Gum, baking powder and desiccated coconut into the flour and slowly add to the cake mixture, a couple of tablespoons at a time

Then add the vanilla bean paste and white Rum (if using) to the mixture

Split the mixture equally between the two tins and bake for about 30 minutes until risen and golden. Remove from oven and leave to cool completely

For the buttercream, place the butter in a mixer and whisk on high for approximately five minutes until white and fluffy. Slowly add the icing sugar, continuing to whisk on high, until all incorporated

Next carefully melt the white chocolate in a microwave making sure that it does not caramelise. Wait for the chocolate to cool for about five minutes and then whisk into the icing to a pipeable consistency. If the icing is a little wet, add another 100g of icing sugar to stiffen

To make the filling, finely chop or blitz the pineapple and place in a saucepan with the mango and passionfruit

Gently simmer until most of the liquid has evaporated, making sure it doesn't get any colour

Remove from the heat and leave to cool completely. Once cooled, mix in the passionfruit curd.
To assemble the cake:
Ensure the cakes are cooled and cut each of them in half horizontally to give you four round sponges. Place the first half upside down on a board so the bottom of the cake is face up. This gives you a flat surface to pipe / layer icing on

If you do have a piping, bag fill it with 1/2 of your icing and gently pipe a layer onto the cake. Then pipe a ring around the outside so you have a well.

Put 1/3 of the passionfruit filling into the well, then top with a cake. Repeat the process until you have four layers stacked. To keep the cake straight use three bubble straws cut to size, or cake dowels/skewers, and place in the top

Use 2/3 of the remaining icing to pipe around the side and top of the cake and smooth out using a palette knife. Try to ensure no crumbs get into the icing.

Next pipe seven big swirls on top with the remaining icing and sprinkle with the coconut flakes. For additional decoration, please see recipe tips.
Nutritional information per serving
Hints and tips:
The passionfruit curd is easily available online but you can use lemon or lime curd instead.
If using the microwave to soften your butter, be careful that you don't melt it or make it oily.- it should be at room temperature.
For additional cake decoration:
Entirely optional, soak three rice paper sheets in water and place them onto a greaseproof paper lined tray. Use food colouring to paint one red, one silver and one blue. These should be done the day before so they can dry completely before placing onto the front of the cake. Finish the cake with a couple of red roses, wrapping the stems in clingfilm.