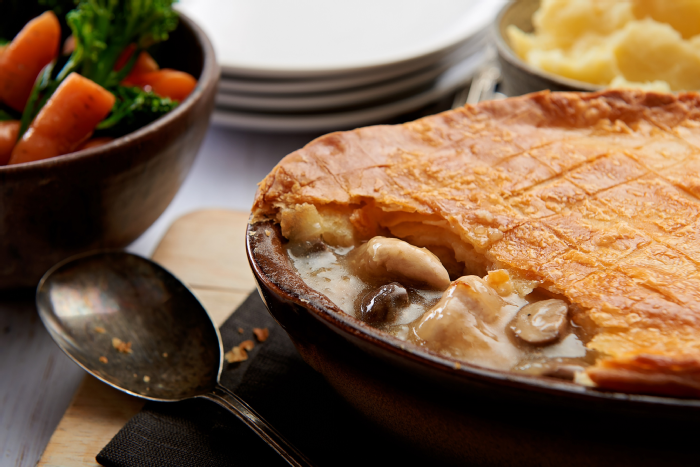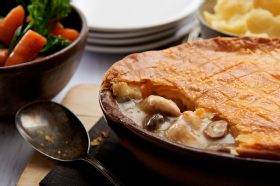 Chicken pie with gluten free puff pastry
All puff pastry takes a while, but if you have time it is worth the effort. The recipe will fill two pies, so if you wish you can freeze half of it for next time.
Credited to: Coeliac UK
Kcal:
Serves 4
570 mins prep
60 mins cooking time
Ingredients
Ingredients for puff pastry
350g (12.5oz) gluten free self-raising flour*
½tsp xanthan gum
pinch of salt
2 large eggs
100ml cold water
250g (9oz) unsalted block butter
1 egg for glazing
Ingredients for chicken pie filling
25g (1oz) butter
600g (21oz) diced chicken
1 onion, finely diced
150g (5oz) button mushrooms, sliced
400ml gluten free chicken stock*
20g (¾oz) cornflour
50ml water
Notes: *Please check our Food and Drink Information for suitable products.
Method
Method for puff pastry
Mix together the flour, salt, eggs, and water with your fingers until they are well combined into a dough
Place the dough on a floured surface and knead for a few minutes
Shape the dough into a ball, wrap in Clingfilm and place into the fridge for 2 hours
While the dough is chilling, roll the butter out into a rectangle between two pieces of greaseproof paper. This is easier if you hit it with a rolling pin until it's fairly flat. Roll it out until you get a 40x20cm rectangle. Chill in the fridge for an hour
Roll the dough into a 60x20cm rectangle. Now place the rolled out butter over the bottom two thirds of the dough, then fold the unbuttered third of the dough over the top of the butter and then fold up the bottom third over the top
Cover the dough and chill in the fridge for another hour
Repeat steps 5 and 6 four further times
Repeat step 5 one final time, and then this time chill the pastry overnight if possible (or for a few hours if not – the longer the better). The colder the pastry the better
Your puff pastry is now ready to use. Roll out and use
Method for Chicken Pie Filling
In a medium size pan, heat the butter and fry the chicken, onion, and mushrooms together for 5 minutes. Add the stock and simmer for 20 minutes or until the chicken is cooked
Dilute the cornflour with the water and add this to the chicken to thicken the sauce
Place the chicken filling in a shallow pie dish, cover with the pastry, glaze with the egg, and mark for a patterned effect
Cook in moderate temperature 190C, 375F or gas mark 5 for 20-30 minutes