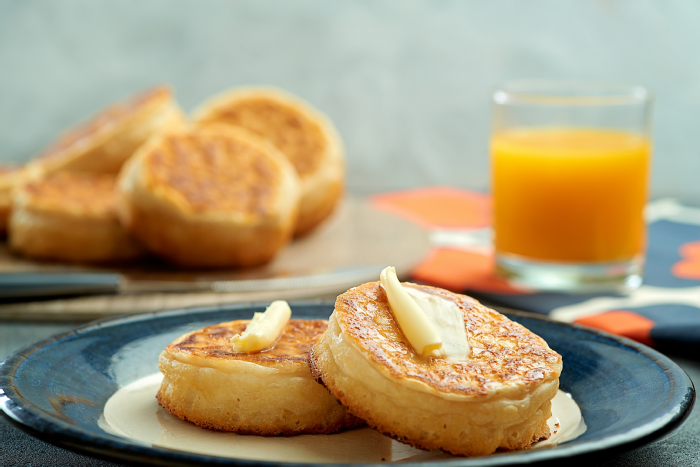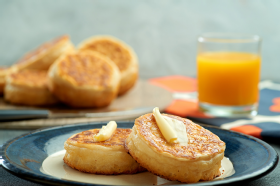 Gluten Free Crumpets
These crumpets are lovely and light. You cook them slowly in a large frying pan with crumpet rings. The batter is best left overnight so it becomes thick and bubbly. Try not to stir it or knock the bubbles out when you are spooning out the batter to make the crumpets.
Credited to: Coeliac UK
Kcal: 159.0
Serves 8
5 mins prep
30 mins cooking time
Ingredients
125g (4½oz) gluten free white bread flour*
125g (4½oz) rice flour
½ tsp salt
½ tsp sugar
¼ tsp xanthan gum
¼ tsp bicarbonate of soda
1 tsp (5g) quick yeast
500ml (18fl oz) milk
1 tbsp (15ml) oil
Notes: *Please check our Food and Drink Information for suitable products.
Method
Mix together the gluten free flours, salt, sugar, xanthan gum, bicarbonate of soda and yeast
Add the milk and stir to make a thick batter
Cover with a damp cloth or clingfilm, and leave to rise for a couple of hours, preferably overnight
Oil a frying pan and four crumpet rings and place onto medium heat
Put a large spoon of the mixture into each crumpet ring, so that they are about ¾ full
Cook on medium heat for about 10-12 minutes. When the top is no longer wet remove the metal ring from the crumpet
Turn the crumpet over and cook for a further 2-3 minutes
Enjoy hot with butter.
Nutritional information per serving
Hints and tips: