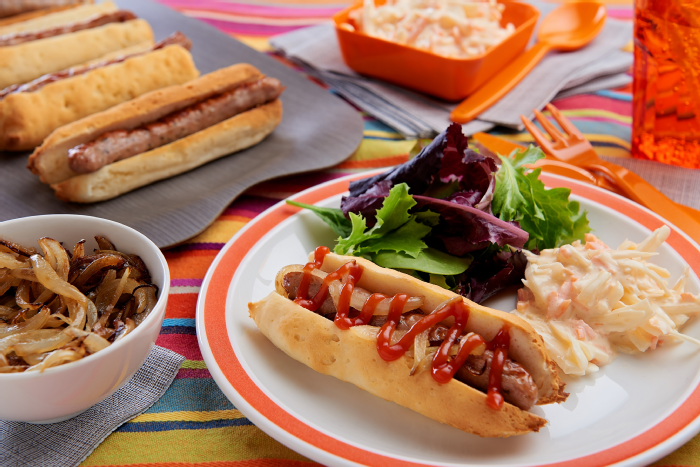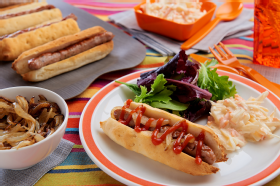 Soft gluten free hot dog rolls
These rolls are easy to make as long as you have a piping bag. If you don't, then take a thick freezer bag and cut a one-inch hole in one corner to pipe through.
Credited to: Coeliac UK
Kcal:
Serves 8
25 mins prep
25 mins cooking time
Ingredients
1 tbsp (15ml) active dry yeast
1 tbsp (15ml) honey or sugar
325ml (12fl oz) tepid milk (warm, but not too hot, or the yeast will die)
450g (16oz) gluten free bread flour mix*
1½ tsp (7½ml) xanthan gum
4 tsp (20g) baking powder*
1 tsp (5ml) salt
2 eggs
50ml (3 tbsp) oil
2 tsp (10ml) cider vinegar or lemon juice
Notes: *Please check our Food and Drink Information for suitable products.
Method
Preheat the oven to 190°C/375°F/Gas Mark 6
Mix the yeast and the sugar in a small bowl. Add the warm milk and blend together, then leave it for 10 minutes, until the yeast starts to foam and bubble
Sieve together the flour, xanthan gum, baking powder and salt in a large bowl
In a third bowl, mix together the eggs, oil, and vinegar
Place the yeast mixture and the egg mixture into the bowl containing the flour mixture, and mix them all together. Stir until all ingredients are well mixed. This can be done easily using an automatic mixer for 3 minutes with the paddle blade, or by hand mixing with a spatula (you don't need to knead this dough; it will be more like a thick cake consistency)
Grease an over-proof tray
Place the batter into a piping bag (or a freezer bag with a one inch hole in the corner). Pipe 8 finger rolls. The rolls should be about 1 inch x 6 inches. They should be 2 inches apart as they double in size as they rise
Leave to rise for about 30 minutes or until doubled
Bake in the oven for 20-25 minutes or until golden and cooked through
Hints and tips:
This recipe works in a

Panasonic SD-ZX2522 bread machine, when made a a whole loaf