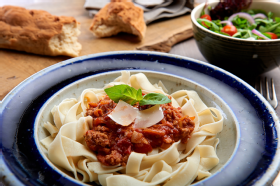 Gluten Free Tagliatelle with a Lamb Ragu
We've used our own pasta dough recipe to make the tagliatelle, but if you're short of time, feel free to swap out the dough for shop bought. Use 75g to 100g dried pasta per person.
Credited to: Coeliac UK
Kcal:
Serves 4
30 mins prep
60 mins cooking time
Ingredients
30g (1oz) butter
½ batch of gluten free pasta dough*
3 tbsp (45ml) olive oil
150g (5oz) smoked back bacon, finely diced
1 onion, finely diced
1 clove garlic, finely chopped
1 large carrot, finely diced
2 sticks celery, finely diced
500g (10oz) minced lamb
2 x 400g (14oz) cans chopped tomatoes
2 tbsp (30g) tomato purée
3 finely pared strips lemon zest
1 bay leaf
1 tsp (5g) parsley, chopped
Salt and freshly ground pepper
Freshly grated nutmeg
60g (2oz) freshly grated Parmesan
Notes: *Please check our Food and Drink Information for suitable products.
Method
To make the sauce, heat the olive oil in a large saucepan over a medium heat. Add the bacon, onion, garlic, carrot, and celery, and fry for about six minutes or until tender. Stir in the minced lamb and stir-fry until the lamb is brown. Add the chopped tomatoes, tomato purée, lemon zest, bay leaf, and parsley. Lightly season with salt (the bacon is quite salty). Add pepper and freshly grated nutmeg to taste
Return the mixture to the boil and simmer gently for 30 minutes until it forms a thick, flavoursome sauce, then remove the lemon zest, bay leaf, and parsley. Add half the parmesan to the sauce
Turn the gluten free pasta dough out onto a lightly floured surface (with gluten free flour) and knead for a few minutes, until it is smooth
Divide the dough into two equal pieces. Take the first piece and roll it out onto a lightly floured work surface to a 1mm thickness. If the dough starts to stick, dust it with a light coating of gluten free flour. Using a sharp knife, cut the dough into thin strips about 4mm in width and as long as you can manage in length

Just before you are ready to serve, drop the tagletelli into a pan of boiling, salted water, until al dente - about 4-5 minutes. Drain thoroughly and heap into a serving bowl. Add the butter and 4 tablespoons of Parmesan.

Toss well and serve with the sauce and extra Parmesan.