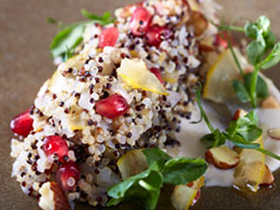 Quinoa Salad
From the all gluten and dairy free menu from Indigo at One Aldwych, Executive Chef Dominic Teague has created this vibrant and zesty Quinoa salad, perfect to enjoy on a summer evening. Packed with irresistible fruity notes, this dish is a deliciously healthy yet substantial gluten free option.
Credited to: Indigo at One Aldwych
Kcal:
Ingredients
Almond purée:
30g blanched peeled almonds
150ml almond milk
1 tbsp olive oil
2 tbsp red wine vinegar
Juice of half a lemon
Lemon dressing
150ml olive oil
1 tsp fine sea salt
Juice of 2 lemons
1 tbsp white wine vinegar
1 tbsp sherry vinegar
Jerusalem artichoke
2 tbsp olive oil
200g Jerusalem artichoke, grated
100ml water
Quinoa
Garnish
1 pomegranate, seeds
20g chopped smoked almonds
2 slices preserved lemon
Method
Almond puree
Toast the almonds in a pan until they are a light golden brown colour and then soak them in almond milk overnight
The next day, simmer the soaked almonds and milk in a pan until it is reduced by half
Place in blender and if required, adjust the consistency with warm water to get a smooth paste
Gradually add olive oil until it is completely incorporated
Adjust seasoning with salt, vinegar and lemon juice.
Lemon dressing
Place all the ingredients into a bowl and mix well.
Jerusalem artichoke
Heat the olive oil in a pan and then add the artichoke, water and season
Cook on a low heat until tender.
Quinoa
Boil the quinoa in plenty of salted boiling water for approximately 12 minutes until cooked
Drain and keep in the fridge until required.
To serve
Spread the almond puree onto the plates
In a bowl, mix together the quinoa, the Jerusalem artichoke, ¾ of the lemon dressing, half of the almonds and half of the pomegranate, and season
Arrange on the plates and sprinkle the remaining almonds and pomegranate around
Top with the preserved lemon and drizzle over the remaining lemon vinaigrette.