Gluten free cake making
When it comes to baking, there's no need to shy away from making your favourite treats if you can't have gluten. Baking gluten free can be a great way to experiment with different flours, baking aids and flavours.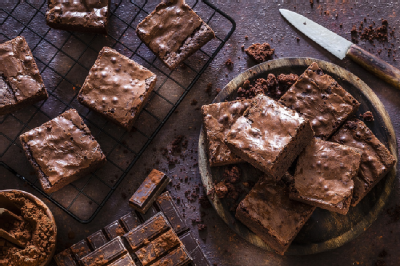 What role does gluten have in baking?
Gluten is a protein and is found in all standard flours used for cake making. It gives cakes their structure and moist texture. Without gluten, cakes are drier, crumbly and have a shorter shelf life but there are a number of ways you can use to try and counter this.
How to bake without gluten
The key to great gluten free cake is experimentation. Trying new flours such rice, tapioca or potato are great ways to add texture to your cakes in the absence of gluten. There are plenty of gluten free self raising and plain flours available on the market which will help you make great gluten free cakes. Or if you want to take the guess work out of it, we've done the hard work for you and have loads of cake recipes for you to try.
Another way to improve the texture of cake is xanthan gum, this is a useful ingredient for baking with gluten free mixes. Find out more about xanthan gum.
Gluten free bakes
Try making a gluten free Victoria sponge or gluten free brownie and see if your friends can tell the difference!
Gluten free Victoria sponge
Ingredients
110g gluten free self raising flour*
110g caster sugar
110g cooking margarine or butter
2 eggs
½ teaspoon vanilla essence or extract
Strawberry or raspberry jam
280g icing sugar
140g butter
1-2 tbsp milk or water
Method
Preheat the oven to 180°C. Melt the butter or cooking margarine until soft – but not runny – in a large mixing bowl. Mix in the caster sugar, flour and eggs. Then add in the vanilla essence.
Pour the mixture evenly into two greased and lined cake tins
Place in the oven for 20-25 minutes until the cakes have risen and are lightly golden. To test if they are ready, insert a skewer into the middle of the cake – if it comes out clean, the cake is ready
Once cooled, spread the jam over the top of one of the cakes
To make the icing, beat together the icing sugar and butter, slowly stirring in two or three teaspoons of boiling water or milk. Be careful not to make the icing too runny
Spread the icing over the top of the jam, and then carefully place the other cake on top. Sift the remaining icing sugar over the top of the cake, then serve.
Gluten free brownies
Chocolate brownies are a popular treat and can be easily adapted to be gluten free. To make yours gluten free, switch the gluten containing plain flour for gluten free plain flour – check your Food and Drink Information to find a suitable flour. You'll also need to make sure the chocolate you use is suitable for a gluten free diet.
With thanks to Aaron Bosdet-Kitchener, Up and Coming gluten free Chef of the Year 2013 finalist, for this recipe:
Ingredients
200g butter
300g dark chocolate*
200g gluten free plain flour*
200g chopped hazelnuts or walnuts (optional)
400g sugar
6 eggs
2 tsp gluten free baking powder*
Method
Gently melt together the butter and chocolate
In a separate bowl mix together the flour, baking powder and sugar
Beat in the eggs followed by the melted butter and chocolate mixture
Stir in the nuts (if using)
Pour into a 150 x 200mm oiled and lined baking tray and bake at 180C/350F/Gas 4 for 30 mins
Cut into slices before serving warm.
*Check your Food and Drink Information for suitable products.