Thank you Thursday this Gluten Free Community Week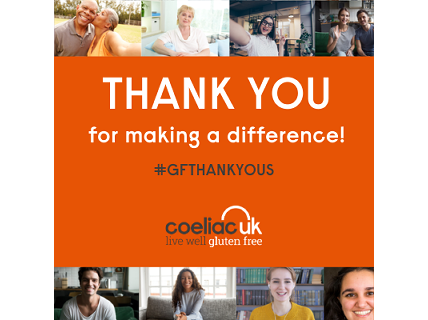 14 May 2020
This event and competition are now closed. Thank you to everyone who took part!
As part of our Gluten Free Community Week, we want to say thank you to the wonderful people who make up our special community. We're all helping each other more than ever right now, so join us by sending a big virtual 'thank you' to someone who's made a difference to you.
Whether your gluten free hero has taken on a challenge, volunteered to help others or simply carried on doing their job in difficult circumstances, now's the time to show your appreciation.
Simply log onto social media and write a post about this person means to you, using the hashtags #gfcommunityweek #gfthankyous. Remember to tag the person you're talking about too, and they'll be in with a chance to win a delicious prize courtesy of Chef Akila, LEGGERO, Gosh! or Bidfood.
Why not post our Thank you card to their social media too. Download it here.
Don't forget entries for our baking competition close at midday Friday too.
Our art competition closes on Sunday.