A study to compare group versus individual dietetic intervention in patients with newly diagnosed coeliac disease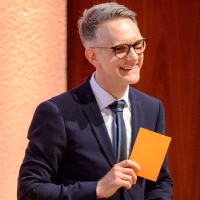 Nick Trott is a Gastroenterology Dietitian at the Royal Hallamshire Hospital, Sheffield and was a key member of the research team comparing individual vs group dietetic appointments. Nick has presented on this topic at Coeliac UK's Research Conference.
What's the current situation?
National guidelines recommend that patients newly diagnosed with coeliac disease should receive information and support on the gluten free diet from a healthcare professional with specialist knowledge of coeliac disease. A dietitian with expertise in coeliac disease is best placed to provide this support, but we know that people can face long waiting times for their first appointment with a dietitian.
Why did we fund this research?
The use of group clinics in coeliac disease has the potential to improve access to dietetic services and reduce waiting times – it is a model that is already working in other health conditions. Group clinics for coeliac disease are already running in some parts of the UK but there has been limited published data to compare outcomes from group clinics with individual appointments.
To fill the gap in the evidence, Coeliac UK funded researchers at the Royal Hallamshire Hospital, Sheffield to explore if group clinics are as effective as traditional individual appointments. The research has now been published in Clinical and Translation Gastroenterology.
How was the research conducted?
People newly diagnosed with coeliac disease were allocated to either a group clinic or an individual appointment. Some people needed a one to one appointment to receive more tailored advice, such as those with multiple conditions (eg having both diabetes and coeliac disease) and people with communication barriers. These individuals were excluded from the analysis.
Several outcomes were compared between the two groups. The researchers looked at nutritional status, antibody levels in blood and also asked participants to complete validated questionnaires to assess adherence to the gluten free diet, quality of life and anxiety and depression. These measures were taken before the first dietetic session and at follow up three months after the first appointment.
What did the researchers find?
The researchers found no significant differences between the groups for nutritional status, adherence to the gluten free diet or antibody levels in blood. On average, those attending the individual appointments had lower scores for anxiety than those in the group sessions, however both groups had scores below the threshold for probable anxiety or depression.
There are two other potential benefits of group clinics. Firstly, they allow people newly diagnosed with coeliac disease to meet other people who are in the same position providing another support network. Secondly, the research also found that group clinics were also associated with cost savings, achieving a 54% reduction in dietetic resources when compared with one to one appointments.
What are the next steps?
We will share this research among dietitians and as a model of good practice that may be considered by other dietetic departments providing services to people with coeliac disease.
Principal Investigator: Professor David Sanders, Consultant Gastroenterologist
Institution: Royal Hallamshire Hospital, Sheffield
Grant Awarded: £39.4k