Pizza Party
Host your very own pizza party!
It's a great way to introduce children, friends and family to cooking gluten free, and show them that it doesn't have to be difficult. You could host your party in person or on a video call.
To get started check out our: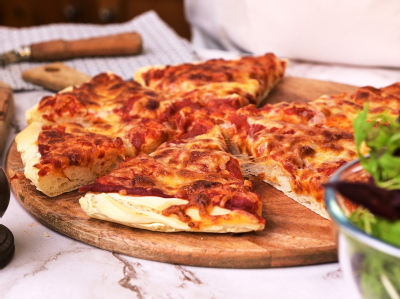 Gluten free pizza recipe card, with extra toppings ideas
in one easy download you will receive
Printable invitation
Chef's hat
Colour in pizzeria sign and menu board template
Download pizza party resources
Getting started
To begin, download and print off the recipe card to make sure you have everything you need.
If you're cooking with children, download and print off the invitation, chef's hat and pizzeria sign and menu board template and ask them to colour in and decorate, ready for the big day!
If you're not local to each other, you could share the recipe with your loved one, then get together on a video call to compare your pizza toppings.
Gluten free cheese and tomato Pizza recipe
Using the recipe card, follow the video below to start making your tasty pizza.
Pizzas are best enjoyed straight from the oven, but if you don't have time you could make them the day before, slice it up and keep it in an airtight container, reheat in the oven and enjoy.
Extra toppings
This recipe is the perfect classic tomato and cheese pizza that kids will enjoy. But if you want to mix it up here's some more ideas.
Make your own tomato sauce
In the recipe we use ready made pizza tomato sauce, to find it click to search for suitable pizza sauces on our Food and Drink Information service.
But if you want to make your own tomato sauce base, mix together a carton of tomato passata, a good glug of olive oil, a generous sprinkling of dried oregano or mixed Italian herbs and finish with a pinch of salt and sugar and a grinding of pepper. If you had time let it bubble away in a saucepan to thicken slightly, if you don't have the time it can be used straight away.
Bacon and sweetcorn
Cook two rashers of bacon either in the frying pan. Drain the can of sweet corn, and add a handful into the frying pan at the end of cooking to warm through. Using scissors, chop up the bacon onto the pizza and scatter over the sweetcorn this can be added at the beginning or end of cooking the pizza.
Mushroom and peppers
Slice the mushrooms and peppers, either dry fry for 5 minutes or roast in the oven for 15mins with a little drizzle of oil and a sprinkling of dried mixed herbs. Add these on top of the gluten free pizza before cooking.
Ham and pineapple
Slice or cut up your favourite ham, peperoni works well and chop up tinned pineapple rings, top the pizza with them before cooking.
"Cheery" tomato face
For the eyes, slice one cherry tomato in half and slice two thin rounds of courgette. Place the courgette onto the pizza and top with half a cherry tomato. For the 3D nose, chop about an inch off the bottom end of a carrot and pop it just under the eyes facing up. For the smiley mouth and ears half a pepper and slice three long pieces from it and top it on the pizza. This can go onto the pizza before cooking. Once the pizza cooked it's ready for the hair, some green salad leaves like rocket or spinach works great.
For the adults; Goats cheese and red onion
Thinly slice 1 red onion, in a frying pan with a lid add a glug of oil and the red onions over a high heat. Cook for about 2 minutes constantly stirring, add in a pinch of salt, and two teaspoons of sugar, reduce to a low heat add the lid and cook for a further 20 minutes keeping an eye to make sure the onions don't catch. Slice the goats cheese (you're looking for the goats cheese with the rind) into rounds place on top of the pizza and scatter the red onions when there is 5 minutes left of cooking.
More pizza party recipe ideas
Make it a feast with more tasty gluten free recipes. Try out our Greek loaded fries, the crispy potato skins with a handful of tasty dips. Or if you're in the mood for popcorn chicken or cheesy garlic bread with a mouth watering garlic dip, you won't have to call a takeaway because we've got you covered. Top your night off with a refreshing fruit and yoghurt iced lolly or go all out with our chocolate and peanut butter baked alaska.
Return to Home of Gluten Free Recipes