First hospital in Scotland gains our GF accreditation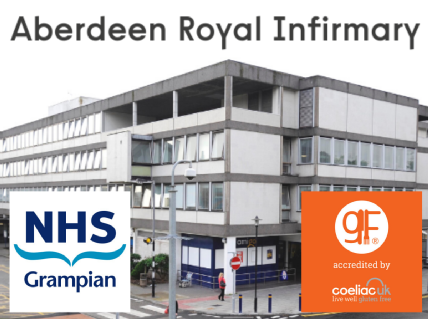 9 January 2020
We are delighted to announce that Aberdeen Royal Infirmary is the first hospital in Scotland to gain our GF accreditation so they can better cater for their patients with coeliac disease.
Having undertaken our training and developed learnings on best practice on storage, labelling, preparation and cross contamination, all through our scheme, the hospital is now able to safely produce gluten free food which meets the strict criteria of our GF standard.
Being in hospital can make patients with coeliac disease feel vulnerable as they have to entrust their gluten free diet, which is the only treatment for their condition, to someone else. We know that 60% of people with coeliac disease find it difficult to get a gluten free meal as a patient, so we applaud Aberdeen Royal Infirmary for leading the way in Scotland.
See more about the GF accreditation scheme here.
View the BBC Scotland article here - 19 minutes 37 seconds