Our Research Fund Get involved to help us raise funds for research into coeliac disease
Why research is needed now
For the 1 in 100 people affected by coeliac disease, it can be hard to appreciate the impact coeliac disease can have on their lives.
For many, coeliac disease can mean years of suffering before eventual diagnosis. For others, it can be ongoing health impacts long after diagnosis, whether due to neurological conditions or related autoimmune conditions. And for those diagnosed with refractory coeliac disease type II, they are at an increased risk of certain types of gut cancer.
Sadly, little has changed since the discovery of the link between coeliac disease and gluten over 60 years ago. Today, sticking to a gluten free diet is still the only treatment – but it doesn't work for everyone. And as more disturbing new aspects of the disease emerge, it's becoming critical to find answers through research.
We need to do something. Find a more permanent solution to a growing problem. But without research and understanding, the real problem – coeliac disease – isn't going away anytime soon.
£5 million could be life changing
£5 million would allow us to focus on the priorities that our community and healthcare professionals believe give us the best chance of developing life changing solutions for those living with coeliac disease.
You can change the future for people living with coeliac disease and gluten related conditions. Do something. Donate to our Research Fund today.
More on their stories:
Twins Phoebe and Ruby, 11
Different symptoms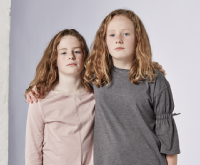 Twins Phoebe and Ruby, were diagnosed at separate times and the initial symptoms for each of them were very different. Phoebe had reflux and severe constipation whilst Ruby who was diagnosed later had skin rash and tummy issues. They have also been diagnosed with an autoimmune thyroid condition.
Find out more about Phoebe and Ruby's story.
Maureen, 79
Neurological issues and osteoporosis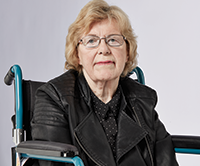 It took 40 years for Maureen to be diagnosed with coeliac disease. As a result, she is now a wheelchair user due to osteoporosis and neurological issues affecting her balance.
Find out more about Maureen's story.
Kerry, 39
Gluten ataxia changed her life
Kerry's life has never been the same since the debilitating symptoms of gluten ataxia, as a result of suffering from coeliac disease took hold and changed the course of her future. Her ataxia causes speech difficulties and means that Kerry has no control over the right side of her body. The former fitness fanatic had to give up her career plans to be a massage therapist and for others like her, the gluten free diet is not enough to help her manage her condition.
Charlotte, 29
Misdiagnosed with IBS
Charlotte struggled for years with misdiagnosed irritable bowel syndrome before finally being diagnosed with coeliac disease, but only after losing so much weight she went down four dress sizes. While she's now put on weight, her dermatitis herpetiformis has not cleared yet. But it's the struggle of managing a gluten free diet, especially on a limited budget, which makes it all the more challenging for this young mum of two, and makes her wish for a better future.
John, 66
Refractory type II sufferer
John suffered from undiagnosed coeliac disease for 50 years before being diagnosed with refractory coeliac disease type II.
He continues to suffer from pain as critically, type II does not respond to the gluten free diet and devastatingly, the long term prognosis for those diagnosed with the condition is not good, with less than 50% surviving beyond five years.
Pam, 61
Neurological impacts caused early retirement
Along with the usual painful gastrointestinal issues caused by coeliac disease, Pam also suffered from severe fatigue, ataxia because of damage to her cerebellum, some neuropathy affecting lower limbs, problems reading, plus memory and some speech issues.
Her condition caused her to take early retirement from the NHS due to ill health.
Gill, 57
Ataxia not relieved by a gluten free diet
Gill was diagnosed with coeliac disease in 2015 after an array of tests to understand the cause of symptoms – tingling in her lower limbs, balance and speech issues and fatigue. Unfortunately, despite following a gluten free diet since her diagnosis, her symptoms have not abated and each day is a challenge and because she doesn't suffer typical coeliac disease gut symptoms, people find it hard to understand her condition.
Find out more about Gill's story.
Vijay, 35
Life turned upside down by diagnosis
Vijay suffered on and off for 18 months with ongoing symptoms of bloating, tiredness, feeling breathless, nausea and acid reflux, to name a few. It took several visits to the GP before finally being referred to a specialist. The diagnosis turned his life upside down and was very difficult to deal with and Vijay says without the support of his wife, family and friends, the emotional challenge of dealing with the condition would have been much harder.
Hinesh, 25
Living day to day with coeliac disease and Type 1 diabetes
Hinesh was diagnosed with Type 1 diabetes when he was 11 years old, and then with coeliac disease only two years ago. His diagnosis for coeliac disease came about after blood screening to understand his fatigue. He has difficulty finding the right gluten free carbohydrates to manage his diabetes.

Frequently Asked Questions
How can my small contribution make a difference?
Amounts both large and small can help make a real difference to the lives of those with coeliac disease and dermatitis herpetiformis. We are grateful for any amount raised and we put funds raised towards research, campaigns and support for our Members.
I would like to donate money for research into coeliac disease, who do I contact?
Our Fundraising Team will be able to help you with your donation - please phone 01494 796127 to speak to one of our Team Members or email fundraising@coeliac.org.uk.
Does Coeliac UK fund research?
Every year the Charity invests a lot of money into research. Some of that research is looking at the underlying genetic make up of people with coeliac disease while other research looks at the day to day impact on people living with the condition. We are the largest investor in research into coeliac disease in the UK. We usually advertise for applications to research grants annually in the medical press.