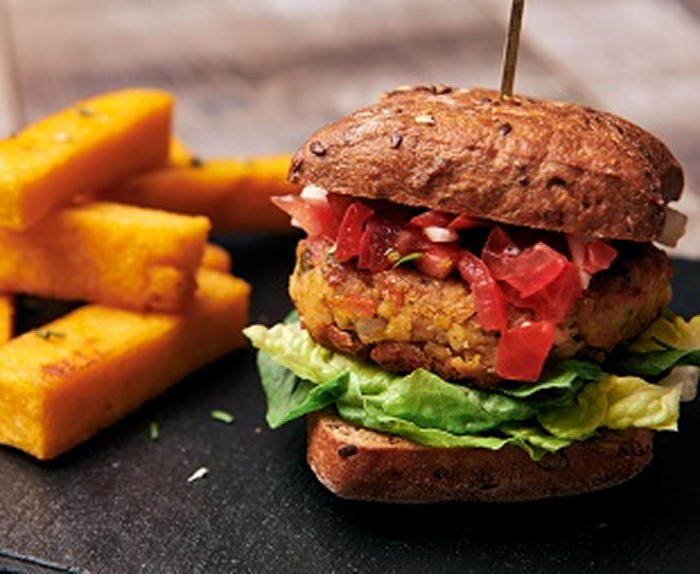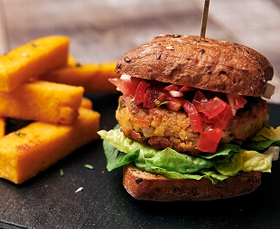 Falafel Burger with Tomato Salsa
This burger is a great alternative to the standard meat patty with extra flavour from the spices and a good source of protein you'll want to make this again and again!
Credited to: Coeliac UK
Kcal: 357.1
Difficulty: Pretty easy
Serves 4
15 mins prep
15 mins cooking time
Ingredients
2tbsp olive oil
1 onion, peeled and diced
1 carrot, peeled and grated
4 garlic cloves, crushed
1tsp lemon juice
1tsp ground cumin
1tsp ground coriander
Salt and pepper to taste
1 can chickpeas, drained
50g GF chickpea flour
3tbsp fresh coriander, chopped
3 tomatoes, chopped
½red chilli, deseeded and chopped (optional)

Brown seeded gluten free burgers

1 gem leaves
Method
Heat 1 tablespoon of the oil in a small frying pan. Add ¾ of the diced onion (reserving the other ¼ for the salsa) and fry for 3-4 minutes without colour. Add the grated carrots and ¾ of the garlic, (again reserving the other ¼ with the saved onion for the salsa) and cook together for a further 5 minutes.
Remove from the heat and add the lemon juice, cumin, and ground coriander. Season with salt and pepper.
Blend the drained chickpeas so they are chopped finely, then add them to the onion mix with the chickpea flour, and 2 tbsp of fresh coriander. Mix together so it's all combined, and then divide and shape into four equal patties. Refrigerate until needed.
To make the salsa, add the chopped tomatoes into the onion and garlic reserved earlier. Add 1 tbsp fresh coriander (and chilli if using) and combine.
Pan fry the falafel burgers in a tablespoon of oil; 3-4 minutes each side or until cooked through.
Serve in a toasted brown seeded bun, with fresh lettuce, and the tomato salsa.
Nutritional information per serving
Hints and tips:
This recipe goes perfect with our polenta chips.