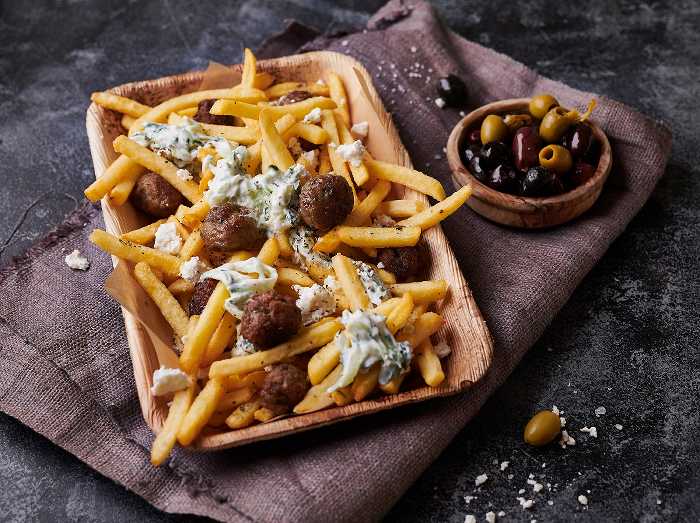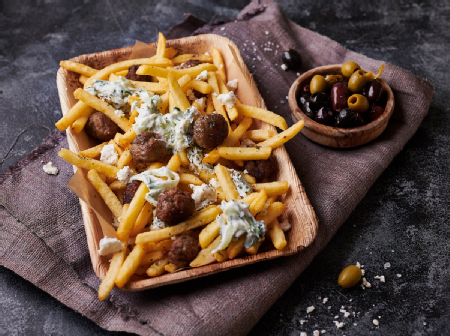 Greek Loaded Fries
We have gone Mediterranean for our loaded fries but you can load them as you wish. We have added a delicious lamb meatball dish as an option feel free to try with or without the meatballs.
Credited to: Coeliac UK
Kcal: 504.0
Difficulty: Pretty easy
Serves 4
10 mins prep
30 mins cooking time
Ingredients
Prepare the meatballs by placing all the ingredients into a food processor. Mix the ingredients together, then shape into hazelnut sized pieces, and place in the fridge to set for half an hour, or overnight.
Then you can grill, bake or fry the meatballs until cooked through.
To make the Tzatziki, coarsely grate the cucumber. Sprinkle with a pinch of salt, and squeeze out all the juice. Add the grated cucumber into a bowl with the yogurt, garlic, and mint, and mix well. Reserve until needed.
Meanwhile cook the chips according to pack instructions. Toss the cooked chips with the olive oil and oregano.
Put onto a serving platter and crumble the feta cheese over the fries. Drizzle over the tzatziki and top with the optional meatballs to serve.
Notes: *Please check our online food and drink information for suitable products.
Method
Greek Chips
600g chips*
1tbsp olive oil
Flaked sea salt, to sprinkle
1tsp dried oregano
50g feta
Handful of olives
Tzatziki
¼ cucumber, halved and deseeded
100g Greek yogurt
1 small garlic clove, crushed
2 tbsp fresh mint leaves, chopped
Lamb Meatballs (optional)
250g minced lamb
1 small red onion, finely chopped
1 clove of garlic, minced
½ tsp dried oregano
1 tbsp fresh mint, chopped
1 tsp ground cumin
1/2 tsp ground coriander
1 slice gluten free bread*
1 egg
Salt and freshly ground pepper
Gluten free flour for coating*
Oil for frying
Nutritional information per serving