Soup glorious soup!
Whether it's thick, thin, chunky or smooth we've got a soup for you! If you're looking for a healthy start to the year, a nourishing and filling soup will do the trick or thinking of changing it up at lunch from the same old sandwich? Soups can be the answer as they're a simple alternative that can be batch made and eaten throughout the week.
As we have a huge selection of soups on our Home of Gluten Free Recipes, we've asked out Foodies to comb through them all and pick out their favourites! If you're using shop bought stock, check our online food and drink directory or food and drink guide to find a suitable product for you.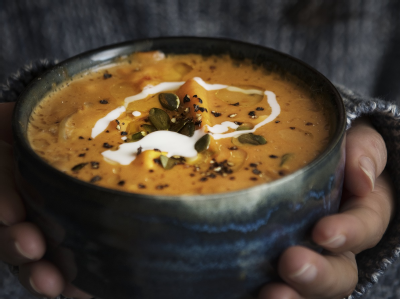 Nicola has opted for this simple Pea Soup because this soup is really easy to put together and is made from simplest ingredients. It's the perfect nutritious meal for when you are in a rush. Replace the chicken stock with vegetable stock for a vegetarian option.
For Lorna, her pick of the bunch is this Lentil Soup. "This is a tasty soup to fill you up and keep you warm in the winter months. Lentils are a great addition to a healthy diet as they are cheap and a great source of protein, fibre and iron."
Sam has picked out the Butternut & Sweet Potato Soup. "This soup is from the gluten free on a budget meal plan - it's cheap and easy to make and the sweet potato gives it a real velvety and comforting texture. Download the gluten free budget plan if you're looking to save some pennies in the new year"
Do you have a favourite from our collection of over 50 gluten free soups or do you have your own? Let us know on social media!